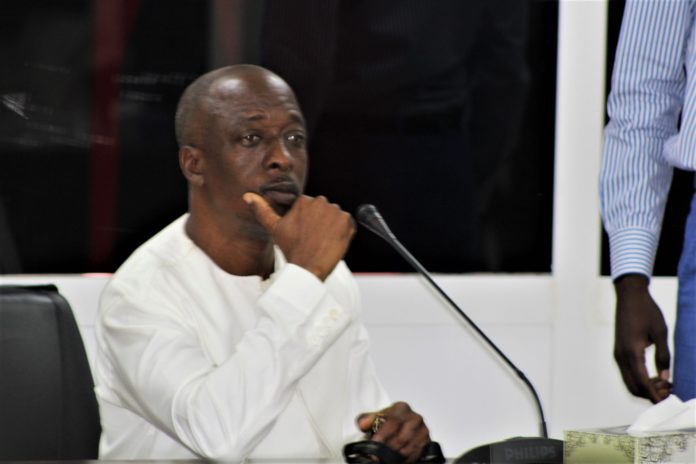 Judge in the murder trial of Yankuba Touray Ebrima Jaiteh is expected to deliver a ruling on a request that seeks to have the executive secretary of TRRC Dr Baba Galleh Jallow arrested.
Mr Touray's trial resumed today at the high court in Banjul with his lawyer Abdoulie Sissoho applying for a bench warrant against Dr Baba Galleh Jallow.
Sissoho while questioning a high profile witness in Mr Touray's trial asked for the statement of the witness to be interposed noting that he requested a statement earlier made by the witness at the Truth, Reconciliation and Reparations Commission.
The statement Lawyer Sissoho added should be produced by the Executive Secretary of the TRRC noting that it would enable him cross-examine the witness before he proceeds with his cross-examination.
Counsel Sissoho informed the court that the executive secretary of the TRRC, Dr Baba Galleh Jallow was earlier subpoenaed in accordance to section 221 of the Evidence Act to provide the court with the statement of the witness which he never did and further failed to advance reasons for his actions.
At this juncture, Counsel Sissoho applied for a bench warrant, urging the court to issue an arrest warrant against Dr Jallow to appear before the court and explain why he should not be charged with contempt of court.
"Subpoena is a command by the law and failure to respond, the court has duty to act," Barrister Sissoho noted.
Responding to the defence application, the state counsel, AM Yusuf submitted that this is a criminal trial and that the section cited by the defence is not applicable in this matter.
In order to back his argument, the state counsel, AM Yusuf also cited Sections 233 to 237 of the Evidence Act arguing that the said sections highlight the procedures to be followed by the court in a conduct of case for prosecution.
The senior state counsel argued that for a witness to only come and testify all what he knows and produce a document cannot stand while asking for a cost from the defence.
Meanwhile the witness, Ensa Mendy confirmed making statements at the Truth Commission in April as well as on 2nd and 5th July 2019 with regards to the case.
The case was at that point adjourned to 11 November when the trial judge is expected to deliver his ruling on the application made by the defence and continuation of cross-examination.
Mr Touray who today looked strong and determined since his arrest and detention in June is alleged to have participated in the murder of Ousman "Koro" Ceesay, the former finance minister of the former AFPRC junta regime. Touray however failed to take his plea when he appeared before the court citing constitutional immunity and since then he is being detained at the state central prison in Mile 2.