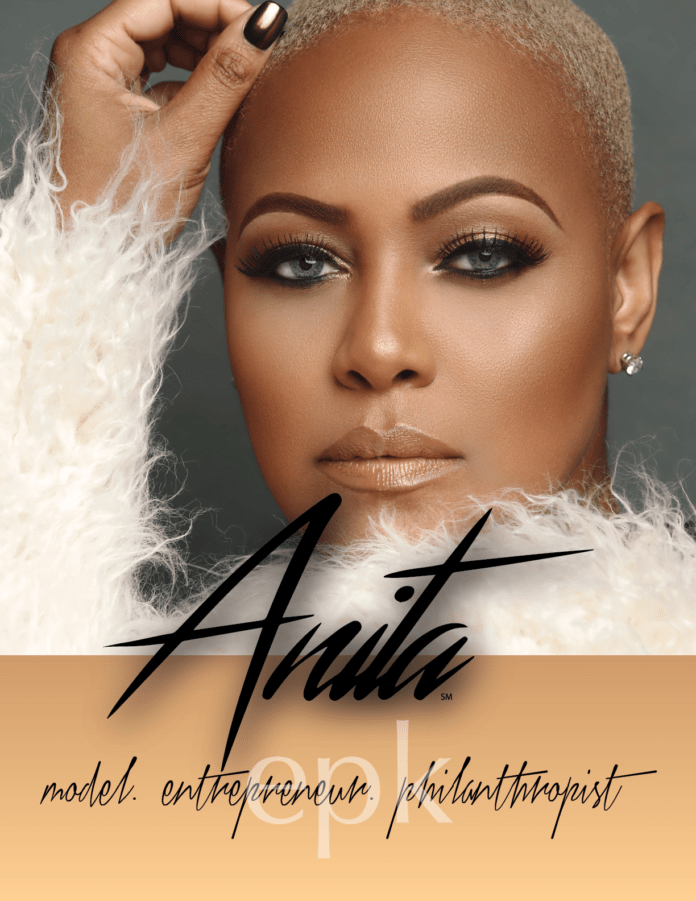 By Lamin Njie
A top US businesswoman Anita E Hawkins will arrive in The Gambia on Friday January 4 on a ten-day visit during which she will meet with women and children in the country.
Mrs Anita, an American lifestyle expert extraordinaire and entrepreneur, has announced plans to support children and victims of domestic violence in The Gambia.
She will visit The Gambia between January 4 and January 13, 2019, in which she will first attend the GLAMU master class event which is geared towards training women how to take care of their skin, apply their own makeup, and most importantly help them boost their confidence.
Mrs Anita will then use the rest of her Gambia visit to meet with various institutions, women and children groups. She also plans to visit the SOS Children's Village in Bakoteh where she will interact with children of the orphanage.
Who is Anita E Hawkins?
Anita grew up in Gary, Indiana, where her entrepreneurial spirit took flight when she was still in her teens. Upon inheriting her grandmother's hair salon, Anita did what very few young women at her age would have had the insight and resolve to do…she worked it! After getting her cosmetology license, Anita grew her clientele by operating both in the salon and going house to house servicing clients who were unable to travel to her location. This was to be the first of many successful business ventures for the tiny young woman with big dreams—dreams she would manage to accomplish in spite of having her childhood and youthful innocence shattered at an early age. Anita was molested for a period of years beginning in the 2nd grade. This unimaginable violation sent her down a devastating path of promiscuity and self-doubt that resulted in teen pregnancy and her becoming a ward of the state after being disowned by her father. Ultimately, Anita was tasked with the incredible challenge of building a life for herself and her infant son all by the age of fifteen. It was the love and generosity of a family friend who took Anita in and cared for her son free of charge. This enabled her to continue her high school education and begin to build a life for herself and her son.
By 2000, Anita was married. She and her husband, former MLB pitcher LaTroy Hawkins moved to Frisco, TX where they had a daughter. There she launched Trokar Industries, LLC. Since its inception, Trokar has acquired a number of land developments around the state of Texas. It has also celebrated a tremendous victory as a result of D.R. Horton purchasing a parcel of land from Trokar for 1.53 million dollars.
After being diagnosed with a rare blood disorder, Anita decided it was time to make some lifestyle changes of her own. Her love of healthy eating and exercise led to her acquisition of the Fresh Healthy Café franchise master designation for the Dallas/Ft. Worth area. She operated the franchise under Lady Eloise, LLC. Restaurant ownership had always been a desire for the mother of two; thus, after doing a great deal of research, she decided upon the Fresh Healthy Café brand because of the company's commitment to its values. These values mirrored her own philosophies and with that purchased the Master Franchise for the DFW Metroplex. Her tenacity and business savviness has not gone without notice. Anita has been recognized by the National Association of Professional Women for Outstanding Excellence and Dedication to Her Profession and the Advancement of Women, and she was recognized as one of the National Association of Distinguished Professionals' prestigious Women of Distinction. She was also identified by 10 Shades of Success as one of Dallas' Most Successful Women. 10 Shades of Success further asked her to serve as Key Note Speaker for its awards banquet.
Anita is as abundant in beauty as she is in business know-how. As a model, model coach and spokesperson, Anita has walked the runway in a number of high fashion events including MegaFest, Designer's Rack at Neiman Marcus, LA Fashion Week, NY Fashion Week, & Philly Fashion Week. She graced the cover of Curvy Connect Magazine (CCM) and was featured in a dazzling seven-page editorial spread. CCM rightfully dubbed Anita "The One to Watch!" Anita has also been featured on Dallas' CW 33, FOX 4, Good Morning Texas, Dallas High Life TV on the UA Network, Saigon Network's The Chau Show, the nationally syndicated morning television show Eye Opener, KRNB 105.7, K104 FM, Heaven 97, KRLD Talk Radio's CEO Spotlight, Street Speaker Radio and The Andy Brown Online Happy Hour. Additionally, she has engaged in editorial features provided the The Dallas Morning News, The Dallas Weekly, Southern Dallas County Magazine, Pose Magazine, Garbed in Modesty Magazine and Texas Metro News. Anita has further participated in the panel discussion "Turning Passion into Profit" during the Full Figured Fashion Week in New York. In 2016, she was named Duchess of the Krewe de Etoiles Gala Masquerade Ball Royal Court, and she and her husband were selected King and Queen for the Dallas Chapter of Continental Societies Annual Naw'lins Mardi Gras Jam. Anita has also served as a judge for DFW Teen Fashion Week and a panelist for the JBolin Fashion Bootcamp: The Power of Perseverance and Pumps, Passion and Purpose.
With her tremendous success, Anita has not forgotten the age-old proverb, "to whom much is given, much is required." Generous does not begin to describe the dedication and hands-on involvement with which Anita supports her many charitable affiliations. She walks for St. Jude Children's Hospital and is one of the organization's top individual and team fundraisers. She further serves as a member on the Frisco planning committee for the charity. Anita gathers and donates items throughout the year to Where are You? which benefits homeless children and their families in the Dallas area. She is also an ardent supporter of Minnie's Food Pantry and has donated over $160,000 to the organization and its mission to feed the homeless. For her tireless efforts, Minnie's presented Anita with the Community Service Award for her leadership and commitment to the organization. Annually, she and her husband sponsor the college education of a deserving student to the school of their choice through the Jackie Robinson Foundation. Anita launched the Find One Reason to Smile campaign benefiting survivors of domestic abuse. The first recipient, Dallas' Women Called Moses Outreach Center, where Anita sits on the Board of Directors, received over $16,000 from Find One Reason to Smile to aid their mission of assisting women and their children to escape the vicious cycle of domestic abuse. Anita also regularly volunteers for and contributes to The Source of Hope. One of their many community events includes providing free meals, haircuts and shaves to the homeless on the fourth Saturday of every month. Anita loves putting her salon and barber skills to work for those in need! Anita also received the President's Philanthropy Award from Women of Wealth, and she was recognized by Rae's Hope for her Outstanding Support. She has also served as a panelist for the Inaugural Mother Daughter Tea benefitting Parenting with a Purpose, and she was the Honorary Chair of Stepping Out of Homelessness.
Destined for greatness and not slowing down any time soon, Anita has added yet another title to her already impressive repertoire…Author. Anita chronicles her rise from the depths of abuse, anger and despair to triumph, self-love and success in her debut novel The Storm After The Storm. Today, Anita E. Hawkins is both self-assured and selfless. She has overcome the harshest of circumstances to become a successful Businesswoman, Lifestyle Expert and Fashionista while giving back to those in need. Most importantly, she is a dedicated wife and mother for her family. CCM said it best, Anita has definitely been the "One to Watch" and will be for many years to come!