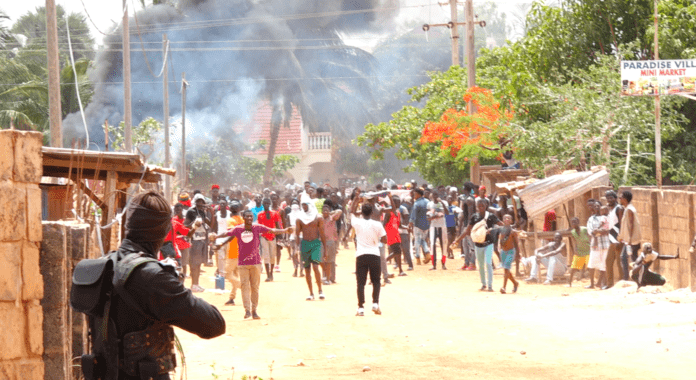 By Lamin Njie
Prominent civil society activist Madi Jobarteh has expressed surprise at the arrest of only 36 people over mass protests that rocked the country in July.
Mass protests erupted in parts of Serrekunda in July over the death of a Sierra Leanean national. Protesters mostly youths claimed Ousman Darboe died as a result of torture allegedly meted out to him by police. The protesters burnt car tyres and the house of the police anti-crime unit commander. The police responded last month by rounding up close to 40 people.
But speaking at a news conference held at Tango on Monday, Madi Jobarteh sarcastically wondered why the police arrested only 36 people and not everyone who took part in the protests.
"The Serrekunda protest was spontaneous action triggered by the death of Ousman Darboe for being allegedly tortured by the Anti-Crime Unit. Hence it is utterly surprising to see that the police have arrested only 36 youths and charged them with unlawful assembly as if these were the only youths who took part in that protest. Why arrest only 36 people and not the rest of the hundreds of other people who also took part in the same assembly?" Mr Jobarteh said.
One of the suspects in the protests is popular rapper Killa Ace but according to Mr Jobarteh, the rapper was never 'present at Gorgui Mboob's house nor at the Bakoteh Police Station at any time on July 24.'
"His many videos on that day attest to that fact. All that we saw was his vocal stance for accountability for police brutality and the protection of human rights," Mr Jobarteh added.