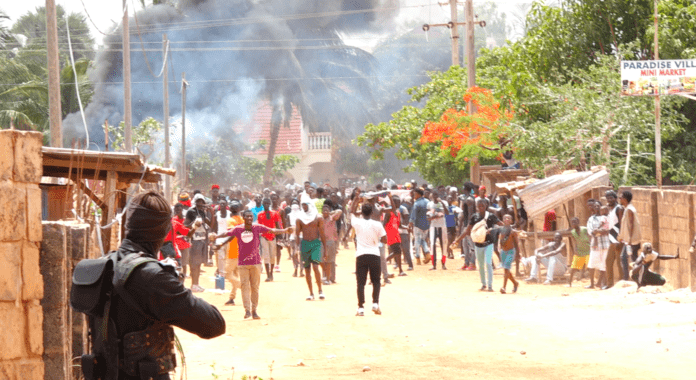 By Fatu Network reporter
Killa Ace's Mile Two woes continued on Tuesday after the Kanifing Magistrates Court denied him bail. He was denied bail alongside 36 other youths.
The accused persons, including three Senegalese, two Guineans and three Sierra Leoneans are charged with various offences including arson, causing panic to other members of the public, unlawful and riotous assembly, disruption of traffic and damage to property.
The charges are linked to the July 24 demonstrations in which youths descended onto the streets to protest the death of Ousman Darboe, a 33-year-old market vendor, who they say, died as a result of a torture meted out to him by members of the Anti-Crime Unit of the Gambia Police Force.
Some of them congregated at the Serekunda police station before embarking on a five-kilometre trek to the Anti-Crime Headquarters in Bijilo where they were engaged in running battles with the police.
Troops from the West African regional peace-keeping mission in The Gambia were deployed alongside soldiers of the Gambian army to reinforce the already overwhelmed police at the Anti-Crimes Headquarters deployed to quell the disturbances.
On Tuesday, the accused persons were hauled up before the Kanifing Magistrates Court for the second time in seven days but their case has taken a new twist after the court transferred their case to the high court and went on to deny them bail.
The court said it was not empowered to hear cases that attract life imprisonment and could not also give bail on such cases. It means the accused persons will spend the next one month at Mile Two but the court has ordered that relatives be allowed to visit the accused persons.
The accused persons will appear at the high court on October 1.