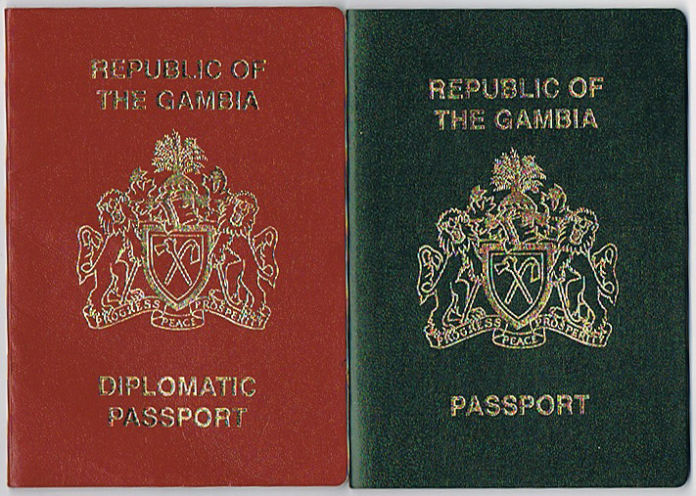 By Lamin Njie
Police said Monday at least eight people have been arrested on suspicion of helping individuals hold Gambian diplomatic passport.
A massive diplomatic passport scandal has hit the ministry of foreign affairs and at least three officials have been implicated in the scandal.
Saikou Sanneh and Ibrahim JS Sanneh, both protocol officers at the ministry of foreign affairs, have been arrested and are helping the police in their investigations. A third suspect Ousman Touray is at large.
On Monday, the police named another suspect as Mansa Sumareh. Sumareh, it has emerged, is a driver at the Office of the President.
Police spokesman Lamin Njie (not related to the author of this story) said: "On the 23rd August 2019, the Inspector General's office opened an investigation into a case of diplomatic passport fraud involving three protocol officers of the ministry of foreign affairs namely Saikou Sanneh, Ibrahim JS Sanneh and Ousman Touray (currently at large).
"Later on, Mansa Sumareh was also arrested in relation to the same matter, all of them allegedly helping to facilitate diplomatic passport for one Bakary Susso.
"In a similar development on the 24th August 2019 Malick Tunkara was arrested at the Airport in possession of a suspected fake diplomatic passport.
"Yankuba Susso, Amadou Touray, and Musa Njie were arrested for their involvement.
"On the 27th August 2019, Superintendent Banka Jatta and Chief Inspector Lang Tombong Sabally of the Gambia Immigration Department were invited for questioning.
"On the 30th August 2019 Michael T Ladipo a Nigerian national was also arrested in connection to the case. Meanwhile investigations continues."
The director of press and public relations at the Office of the President Amie Bojang Sissoho told The Fatu Network on Monday Mansa Sumareh was no longer a driver to the president.
"What I can tell you is that he has ceased to be a driver to president, I think since the beginning of the year," Mrs Sissoho said.
Mrs Sissoho added Sumareh however continues to work at the Office of the President.