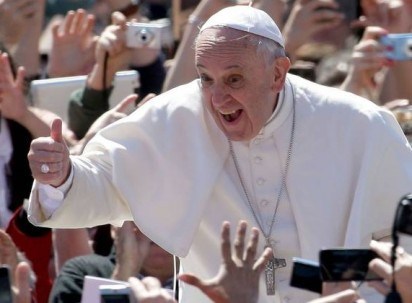 Pope Francis leaves on Wednesday for Africa, where poverty, the environment, foreign exploitation of resources and corruption are expected to be high on his agenda as he visits the continent where Catholicism is growing fast.
He will spend most of the Sept. 4-10 trip in Mozambique and Madagascar and briefly visit Mauritius at the end.
Fires in the Amazon have given new urgency to the pope's calls to protect the environment, tackle climate change and promote sustainable development.
Aides say the trip, his second trip to sub-Saharan Africa, is a key opportunity to renew appeals enshrined in his 2015 encyclical "Laudato Si" on environmental protection.
Rampant deforestation has plagued Mozambique and Madagascar. Deforestation, along with soil erosion, made Mozambique more vulnerable when two cyclones hit the country this year.
According to the World Bank, Mozambique has lost 8 million hectares of forest, about the size of Portugal, since the 1970s.
"Here in Mozambique we like to say that not even our wood is ours because the Chinese are taking it all away, said Costantino Bogaio, head of the Comboni religious order in Mozambique. "The earth is ours and we have to protect it more."
As Asian supplies of valuable hardwoods like rosewood used to make luxury furniture have been depleted, Chinese importers have shifted to Africa. Mozambique is currently the 10th-largest supplier of rosewood to China, according to Chinese customs data cited by U.S.-based non-profit group Forest Trends.
In Madagascar, the world's fourth-largest island, about 44% of forests have disappeared over the past 60 years, according to the French agricultural research center CIRAD. The environmental danger there is aggravated because 80% of its plant and animal species are not found anywhere else.
Poverty, war and corruption will also loom large during the trip. (Reuters)