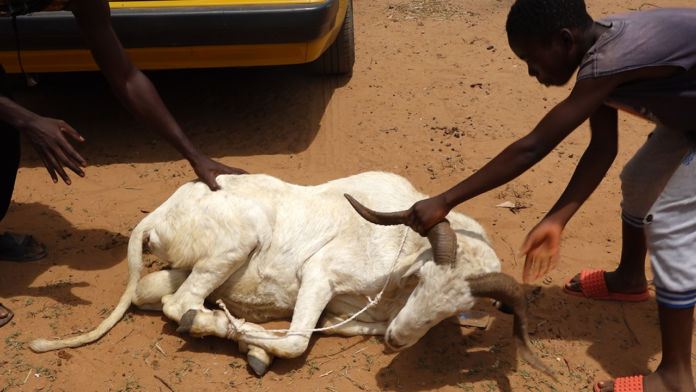 By Momodou Justice Darboe
Barely three days to the Muslim feast of Id-ul-Adha, many Gambian Muslims are complaining over what they called the exorbitant ram prices.
At present, rams are sold at between D10,000 to D20,000 depending on the size. Many that spoke to The Fatu Network say prices of ram for this year are beyond the means of the average Gambian, many of whom live on less than D200 a day.
Some of our interlocutors has tied the cost of Tobaski ram to, what they believed, was the unnecessary   cost incurred in the transportation of rams from Senegal where they were bought.
"The Gambian police and authorities are not making things easy for us. We bought rams from Senegal and it was not a problem to navigate there with the police. But once in the Gambian territory, the police at every checkpoint would like to be bribed," lamented a ram seller, Abdou Mbye.
"Not only the police, but the authorities at the Banjul ferry crossing are not also helping the ram business. There was a D50 crossing fee on every ram and this has not been helpful in stabilizing ram prices," he added.
Another seller who spoke to The Fatu Network lamented that costs involved in obtaining ram from Senegal was huge and, this had in turn, badly influenced the price.
But some customers are suspicious that ram sellers are using the rise in demand for rams to milk unsuspecting customers from their hard-earned money.
"It is incomprehensible, exasperating and unacceptable the amount of money some of these ram sellers are putting on the heads of their rams. How can an average Gambian buy a ram for D10,000, considering the state of affairs? It is a problem that our authorities need to take a critical look at," suggested a customer who spoke to The Fatu Network at the Bakau ram selling and buying points.
Meanwhile, sacrifice of an animal is considered essential part of the Islamic festival of Id-Ul-Adha. Id-Ul- Adha, called the Festival of Sacrifice, is an important Islamic holiday and distributing meat amongst the people is an integral part of the festive season.
But a visit by the Fatu Network team today to some buying and selling points of rams, the most preferred animal for sacrifice by many Gambians, revealed that prices are shooting through the roof.