By: Muhammed Lamin Drammeh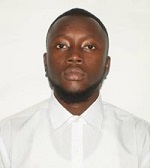 At 25, Nancy Ndong defied societal expectations by becoming a highly respected construction worker, despite originally dreaming of becoming a lawyer and despite the hurdles on the way, she weathered storms of challenges and proved doubters wrong, showing that women can excel in male-dominated fields.
When Nancy was in secondary school, she aspired to become a high-calibre lawyer, but her mother objected. This decision turned out to be a blessing in disguise, leading her to pursue her passion for construction and make a living doing what she loves.
In the Gambia, construction work is a highly male-dominated field. It is quite uncommon to see a female using tools in construction works. However, for the young Nancy, women too can succeed in the field with the right mindset and tools despite the societal classification of what job men and women should do.
"As a lady entering a male-dominated field like construction, I have faced some challenges. Society and even some family members have certain expectations or stereotypes about what jobs are suitable for women.
"However, I believe that everyone should have the opportunity to pursue their passions and excel in any field they choose. It's important to stay determined, and confident, and prove your capabilities through hard work and dedication. Surrounding yourself with supportive people who believe in your abilities can also make a big difference. Remember, breaking barriers and paving the way for others is a powerful thing," she said.
When she completed her secondary school in 2016 at Nusrat Senior Secondary School, she went to the then Gambia Technical Training Institute (GTTI) now the University of USET, where she studied Trowel Vocation in construction and HTC and HNC in construction, to broaden her horizon.
But what motivates Nancy Ndong as a construction worker?
"As a constructor, what motivates me is the opportunity to bring ideas to life, create something tangible, and contribute to the built environment. It's fulfilling to see a project come together and know that I played a part in its creation and the ability to lead and inspire a team, drive innovation, and make a positive impact on communities through the projects I undertake," she told The Fatu Network.
According to her, when she decided to pursue her construction career, some of her family members doubted her ability to thrive in the field. However, through self-belief backed by her indomitable desire to pursue her dream, she overcame the dark cloud of pessimism over her head and now runs her own successful construction company with registered success stories.
Ambitious and hardworking, Nancy and her team completed the new cardiovascular centre at the Edward Francis Small Teaching Hospital in Banjul and the School of Nursing in Bansang.
"I've had the opportunity to work on various projects and see them come to life. One success story that stands out is when I led a team in completing a complex infrastructure project at the Banjul RVTH new cardiovascular centre and the school of nursing in Bansang under Gigo Construction company ahead of schedule and under budget.
"Our efficient planning, coordination, and hard work paid off, and we received recognition for our outstanding performance. It was a proud moment for me and my team to deliver a high-quality project that exceeded client expectations. Seeing the positive impact our work has on communities is truly rewarding," Nancy said.
She explained to The Fatu Network the work's impact on her life.
"Personally, pursuing a career in construction has had a profound impact on my life and lifestyle. It has provided me with a sense of fulfilment, as I am able to contribute to the built environment and make a tangible difference in communities. It has also opened up opportunities for personal growth, leadership development, and professional advancement. While the construction industry can be demanding and challenging at times, the rewards and satisfaction that come with it make it all worthwhile. It has shaped me into a more resilient, determined, and skilled individual."
Nancy dreams of shaping Gambia's construction industry and targeting international road and infrastructure projects to leave her mark. Equally, she explained her challenges and called for financial assistance to help her purchase equipment that would empower her dreams in the work environment.
"Financial support can be crucial in the construction industry, as it allows you to invest in resources that can improve your work. With the right funding, I can upgrade my equipment, hire skilled workers, and expand my operations. This can lead to better project outcomes, increased efficiency, and the ability to take on bigger and more complex contracts. Securing financial support can empower me to achieve my construction goals and make a positive impact on my work," she told TFN.