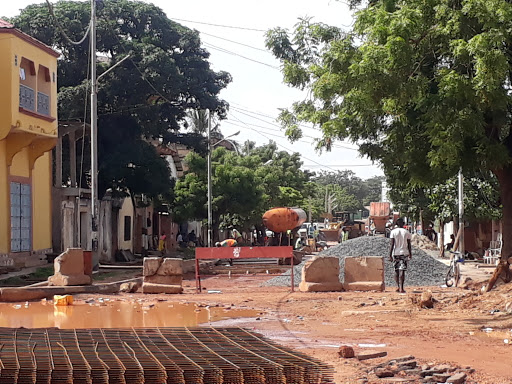 By Lamin Njie
Finance Minister Mambury Njie today dismissed suggestions the Banjul roads and sewage project is shrouded in wrongdoing.
Kerr Fatou last year in a comprehensive investigation reported that the Gambia government claims it was reviewing the documents of a project that will cost Gambian taxpayers 1.8 billion dalasis but it was being tight-lipped on what was not right in the documents. The claimed review of the project document came well after work started started, and critics had all along said the project was hastily put together by President Adama Barrow in return for political benefits.
The finance minister Mambury Njie today insisted there was 'nothing' that was hidden as far as the project is concerned.
He told journalists in Banjul: "Let me just make it very, very clear: the Banjul project was a sort of, it was initiated by Gambians and it was the first time that we have such a project – Gambian contractor and Gambian engineers and there was a proposal sent to cabinet and cabinet reviewed the proposal. It was endorsed.
"Initially, it was in dollar terms. We knew after that that it was going to add up to their debt. Then through the negotiation, we made into dalasi denominated but it was a pre-financing arrangement and what happened? For a whole year, this Gambian contractor, engineers were working without being paid for a whole year. So I think when it comes to the project, technically it was evaluated.
"It was not only about the road, it includes the sewage. We contracted an international consultant to make sure we will be able to get value for our money. There was nothing that was hidden, as at now everything is popping and it was appropriated in the 2020 budget. So we don't see that there is anything wrong."