By: Muhammed Lamin Drammeh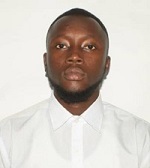 The Gambia under 20 striker Adama Bojang, and Mustapha Drammeh, the current top scorer in the domestic league, both narrowly missed out on the chance to be included as replacements in coach Tom Sainfeit's June 14 AFCON qualifiers squad, which is set to face South Sudan, due to expected long visa process, following late withdrawal of strikers Yusupha Njie and Alie Sowe, Tom Sainfeit tells The Fatu Network.
Speaking to The Fatu Network in an exclusive interview after releasing his final list of players for the crucial game against South Sudan, Tom revealed that he had Adama Bojang and Mustapha Drammeh in mind after the late withdrawal of Yusupha Njie and Alie Sowe, but pointed out that it is not possible to call up the duo after the withdrawal of certain players because there is no visa to go to Egypt from The Gambia.
"I followed all the local-based players. We had Ali Sowe and Yusupha Njje, with other strikers. Now calling a local-based striker after the withdrawal of Ali Sowe and Yusupha is not possible. We don't have a visa to come to Egypt and there is a concern. I have been following Mustapha," he explained to The Fatu Network.
Mustapha Drammeh has been on terrific form for Brikama United this season. He has just equalled the record of scoring 15 league goals, the most scored by a player in a single season in the Gambia Football Federation Division One League.
Another striker that Coach Tom Sainfeit had in mind was Adama Bojang, the 19-year-old prolific goalscorer who has now established himself as a reliable striker and one of the most sought-after youngsters on the continent.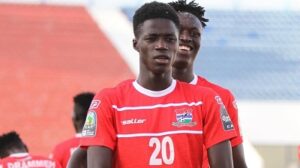 The youngster was someone the Belgian wanted to turn to after the late withdrawal of two senior strikers. However, according to Tom, he didn't exactly know how far the Gambia would go into the U20 World Cup and that the withdrawal of Ali Sowe and Yusupha Njie came too late to invite the youngster who just returned from Argentina.
"We thought of inviting him (Bojang), but we didn't know when the U20 will come back. If we had known they would have returned earlier, we would have arranged this," he explained after the late withdrawal of Yusupha Njie and Ali Sowe from the team due to reported injury concerns.
Tom remarked that Adama Bojang would have been the best replacement for both Yusupha Njie and Alie Sowe in the team.
"But it is what it is. His chance will come. I have followed all their (U20) games. They have a quality team and hope they will all have a chance to play in Europe", he said.
PLAYERS TO HAVE WITHDRAWN
Coach Tom Sainfiet didn't hide his feelings and disappointments regarding the withdrawal of players. He said Yusupha Njie and his club medical team contacted them to tell them that he has been injured, and Ali Sowe informed them two weeks ago that he was going for surgery.
The withdrawal of Yusupha Njie and Alie Sowe left Tom Sainfeit with only two recognized strikers, Muhammed Badamosi and Assan Ceesay to rely on.