By: Muhammed Lamin Drammeh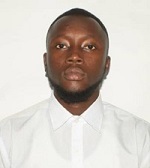 The Gambia national team head coach Tom Sainfeit has defended his decision of calling up Buba Sanneh (Timber), who is without a club, for June 14 AFCON qualifiers against South Sudan, saying he invites players and judge them based on their qualities and what they can deliver for the country regardless of being club-less.
The Belgian tactician came under criticism for inviting Buba Sanneh, who is not playing for any club, and Ibou Adams, who has been injured throughout the season, to be part of the Scorpion's crucial game against South Sudan on June 14.
The Belgian justified that Buba Sanneh, though not playing active football, has had a good performance against Mali in the last two matches. He explained that the team needs players who deliver in circumstances.
"I don't know if you saw his game against Mali. But Buba Sanneh played two superb games against Mali where he came and helped the team. So, we judge players on what they deliver for our team and Buba has been doing well for the national team.
"We have discussed this in the team. We need players who can deliver on circumstances," Tom Sainfeit told The Fatu Network.
Buba Sanneh has been an integral member of Tom Sainfeit's set-up ever since he became the head coach of the Scorpions. He confirmed to The Fatu Network that Sanneh's invitation also has a connection to the style of play he wants his team to execute against opponents.
He further revealed that numerous players withdrew and there is no player with similar qualities and experience with those players than Buba Sanneh and Ibou Adams.
On the reason he invited midfielder Ibou Adams, who has not played for Cardiff's first team throughout this season due to injury, Tom said the player has communicated to him that he is okay and can play for the Scorpions. He mentioned that he played several games for the Cardiff second team despite being out of game time for the first team.
"Ibou Adams played with the second team of Cardiff for several games. Weekly and daily, I have been in contact with this player to know exactly what he can do. Ibou Adams had been injured for the whole season, but he played in the last weeks for the second team, and he is cleared fit, so we are very happy that he will join the team," he told TFN.
The Gambia will face South Sudan in a very crucial game to secure qualification for AFCON in the Ivory Coast. Tom Saintfeit, earlier this morning, released the 23-man squad set to face Sudan in Egypt.
James Gomez, a defender who played most games in the Africa Cup of Nations in Cameroon, is back after missing the last two qualifiers against Mali. Tom now has James Gomez, Omar Colley, Buba Sanneh, Dawda Ngum, Muhammed Sanneh, Ibou TOURAY and Jacob Mendy as available defenders.