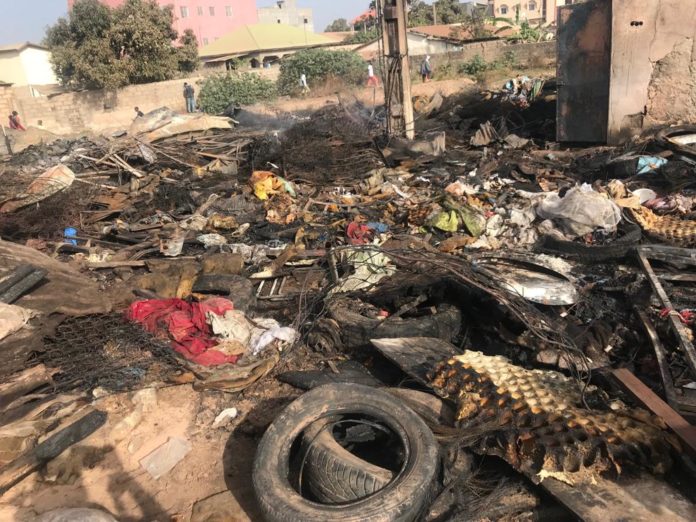 By Momodou Justice Darboe
A broad daylight fire at Tippa Garage in Bakoteh Monday gutted business materials worth thousands of Dalasis.
Items that perished in the inferno included motor bikes, kitchen wares, mattresses, clothing and the NAWEC transformer just near the bridge.
The cause of the fire could not be immediately ascertained but witnesses say it broke out at around 2pm and it took more than two hours before it could be put out.
When The Fatou Network visited the scene, some of the materials were smoldering and the extent of the damage could not be established. However, victims and witnesses put it into thousands of dalasis.
Speaking to this medium, Musa Gitteh, a Bakoteh resident and one of the volunteers in the fire fight, explained that today's inferno was unprecedented in the history of fire outbreaks in the area.
"I can say with ease that we are just lucky that the fire had been controlled before it reached the Petro Gas filling station . However, thousands of valuables has been destroyed in the fire and we can say we've done a wonderful job in fighting it," he said.
Ebrima Sallah and Mawdo Bah, both victims of the fire, lamented they've lost all their livelihoods as a result of the fire.
"I bought D38,000 worth of items three days ago and all have been destroyed today. My entire livelihood was destroyed. I've lost everything," he added.