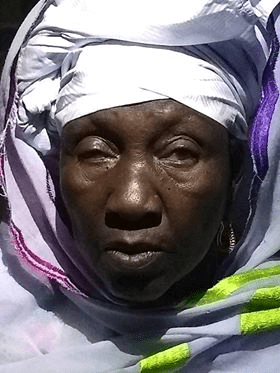 Aji Kura Ceesay, a sixty-eight year old woman complained about her suffering in the hands of the notorious National Intelligence Agency (NIA), under the dictatorial regime of the former President, Yahya Jammeh in January 2015.
The sixty-eight year old is the aunt of the late Alhagie Mamut Ceesay, a Gambian-US based citizen who was allegedly killed with his friend Ebou Jobe by the former president during their holiday to The Gambia.
Aji Kura, a native of Mamut Fana village in the Niamina East District of the Central River Region of the Gambia (CRR), has complained about her unlawful arrest and detention along with one 'Oustass' Abdoulie Gaye by the notorious National Intelligence Agency (NIA) agents without any reason given.
"An NIA agent came to my family house looking for me and I was escorted to the compound of the village head, where I found two agents waiting for me with 'Oustass' Abdoulie Gaye," Aji Kura Ceesay said.
She said they boarded on the former CRR Governor's vehicle driven by the police Station Officer (SO) to Jareng Police Station where they were briefly held in custody before taken to the NIA Headquarters in Banjul.
According to the old woman, the NIA agents deliberately avoided questions about the reason for their arrest on the way to the NIA Headquarters in Banjul.
She said they arrived late at night at the NIA Headquarters where they transferred them to a tinted car and then took them to the police headquarters.
Upon arrival, she said they saw the agents talking to a plain-cloth police officers but were later taken back to the NIA Headquarters.
Aji Kura said she was put in a cell with six other women while 'Oustass' Abdoulie Gaye was held at the male wing. The following morning, she said she was taken for interrogation.
"I was asked about my relations to Alhagie Mamut Ceesay," she asserted. "I'm an aunt to him," she responded. She continued:
"They asked whether I was aware that two US based Gambians along with their father planned to overthrow President Jammeh but I told them that I was not aware and was taken back to my cell again".
The old woman further spoke about her ordeal in the hands of the notorious agents, complaining about severed headache and hypertension during her detention.
"I spent 28 days in custody without access to a lawyer and family members," Aji Kura stated.
"It was horrible," she added. The sixty-eight year old said the way they were arrested and harassed made her wonder whether the notorious NIA agents under the former regime were trained in dealing with detainees.
Meanwhile, the sixty-eight year woman called on the new government to engaged the security officials to respect human rights and to be God fearing in handling citizens.