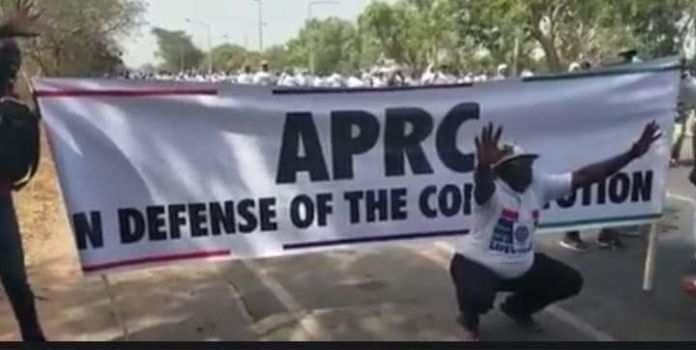 By Lamin Njie
APRC has blasted reports the party took part in a pro-Barrow protest on the Banjul-Serrekunda highway.
Thousands of Gambians have taken to the streets on Sunday to call on President Barrow to stick to his plan of serving a full five-year term. A furore has however erupted after a banner bearing APRC was spotted in the protest. The banner read, 'APRC – In Defense of the Constitution'.
APRC reacted late Sunday saying the banner is 'fake' and 'fraudulent'.
APRC said: "The APRC wishes to inform the general public and all APRC militants that this banner photo/video circulating around social media portraying that the APRC IN DEFENSE OF THE CONSTITUTION is fake, fraudulent, a propaganda, and illegal representation of the party.
"Thus, investigation will be carried out and anyone found responsible will be dealt with."