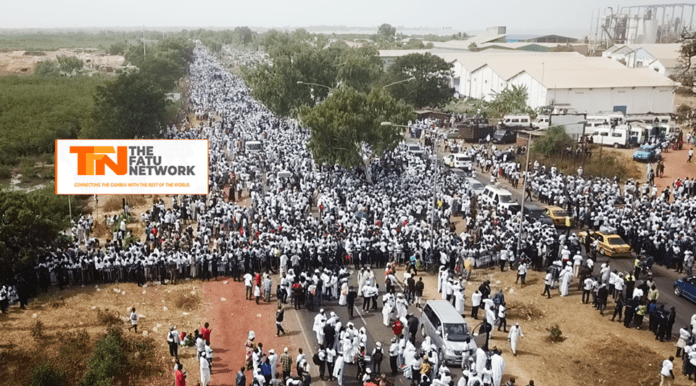 By Lamin Njie, editor-in-chief, and Adama Makasuba
Thousands of protesters on Sunday called on President Adama Barrow to proceed and complete a five-year term, shutting their eyes to calls for the Gambian leader to resign.
The Gambia's political future remains uncertain as the bickering over whether President Barrow should leave office in line with a 2016 gentleman pact or stay in office until 2021 continues.
Pressure group Operation Three Years Jotna is the anti-Barrow movement spearheading campaigns for the president to leave office while Gambia For Five Years want the president to serve a five-year term.
And on Sunday, the protesters who included close President Barrow aides staged a walk from Sting Corner to Denton Bridge, calling on him to remain in office.
"We want five years because that's where there is peace," Ramou Njie who sits in a wheelchair told The Fatu Network.
Saikou Marong, national assembly member for Latrikuna Sabiji lashed out at 'joke' notion for President Barrow to resign.
"I can assure you that President Adama Barrow will never and he will never accept Three Years Jotna demand and step down. It will never happen. Why would he do that (step down)?" Mr Marong said.
Henry Gomez an adviser to President Barrow said the protest was proof that Gambians want Mr Barrow to serve for five years.
The protest comes barely a month after thousands of Gambians protested against Mr Barrow's plan to back-pedal on a 2016 pledge. President Barrow had said he was not interested in power and was going to resign after a three-year term which will come to an end next Sunday.
The five years protesters ended their protest by handed over a petition to government spokesperson Ebrima Sankareh for him to take it to President Barrow.
In the letter, the protesters branded their protest 'patriotic' and said it was prompted by Three Years Jotna movement's campaign for the president to step down.
"Section (65) of the 1997 Constitution of The Gambia which is an entrenched clause provides that an elected President of the Republic shall serve for a term of five years. This provision supersedes the 2016 Coalition Agreement. It is common knowledge that the said Agreement has been amended from three (3) to five (5) years aligning it with the dictates of constitution," the protesters said in their letter to President Barrow.
They added: "It is our fervent believe that the three (3) Years Jotna Movement's recent protest and petition calling for you to step down and the threat for another mass protest on the 20th January 2020 is unconstitutional.
"Economic activities in the country are dwindling, as fear is mounting in all corners that the anticipated protest of the 20th January, 2020 may lead to civil strife and instability in the country. We therefore call on your Government to take firm steps with a view to ameliorating the negative effects of three (3) years Jotna Movement's scare-mongering tactics. Majority of Gambians are behind you and advocates for peace and stability and would not sit aside and watch the said group send the country down the drains.
"We wish to humbly remind your Excellency that you have taken a solemn oath to protect and uphold the Constitution of The Gambia. Serving the mandated term of five (5) years is a manifestation of upholding and protecting the constitution. We the majority of Gambians expect you to do just that."