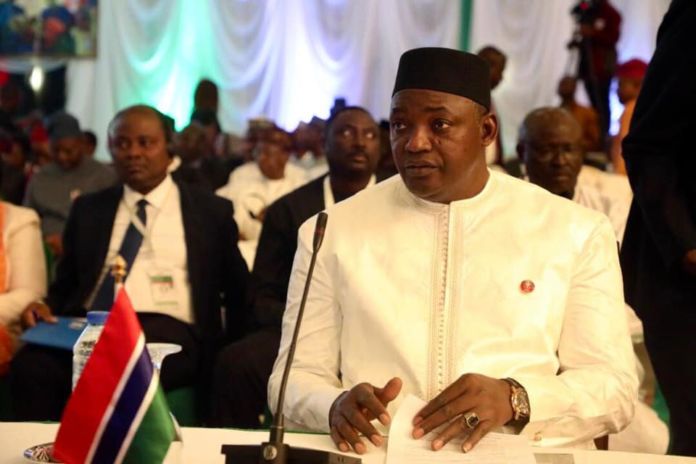 His Excellency
Mr. Adama Barrow
President of the Republic of The Gambia
12th January 2019
Your Excellency Sir,
PETITION TO COMPLETE THE CONSTITUTIONALLY SANCTIONED FIVE YEAR PRESIDENTIAL TERM
The Gambia For Five (5) Years and Peace Building in collaboration with their partners such as the Peace and Stability group wish to petition you to complete the five(5) year presidential term mandated by the 1997 Constitution of The Gambia. This patriotic move is prompted by the three (3) Years Jotna Movement's campaign for you to step down before the 19th day of January, 2020 thereby holding you accountable to the 2016 Coalition Agreement.
Section (65) of the 1997 Constitution of The Gambia which is an entrenched clause provides that an elected President of the Republic shall serve for a term of five years. This provision supersedes the 2016 Coalition Agreement. It is common knowledge that the said Agreement has been amended from three (3) to five (5) years aligning it with the dictates of constitution.
It is our fervent believe that the three (3) Years Jotna Movement's recent protest and petition calling for you to step down and the threat for another mass protest on the 20th January 2020 is unconstitutional.
Economic activities in the country are dwindling, as fear is mounting in all corners that the anticipated protest of the 20th January, 2020 may lead to civil strife and instability in the country. We therefore call on your Government to take firm steps with a view to ameliorating the negative effects of three (3) years Jotna Movement's scare-mongering tactics. Majority of Gambians are behind you and advocates for peace and stability and would not sit aside and watch the said group send the country down the drains.
We wish to humbly remind your Excellency that you have taken a solemn oath to protect and uphold the Constitution of The Gambia. Serving the mandated term of five (5) years is a manifestation of upholding and protecting the constitution. We the majority of Gambians expect you to do just that.
Finally, we wish to stress that if you shall ever yield to the demands of Three (3) years Jotna, you will be betraying us the majority of Gambians and we shall hold you accountable for failing to protect and uphold the constitution. We will not relent in our stride and shall embark on mass protest until the will of the people is respected.
Please find enclosed herein a list of names and signatures of persons in support of this petition. We have targeted to get only 15,000 (Fifteen Thousand) signatories in support of the petition but as you can see our list as gone above D20, 000 (Twenty Thousand) representing a fraction of a percentage of the people who attended today's protest.
Signed by
……………………………
Ebrima Sorrie Bah
Secretary General
Cc Attorney General and Minister of Justice
Dean of the Diplomatic and Consular Corps
ECOWAS Ambassador
EU Ambassador
UN Country Representative
AU Executive Secretary
Speaker National Assembly of The Gambia