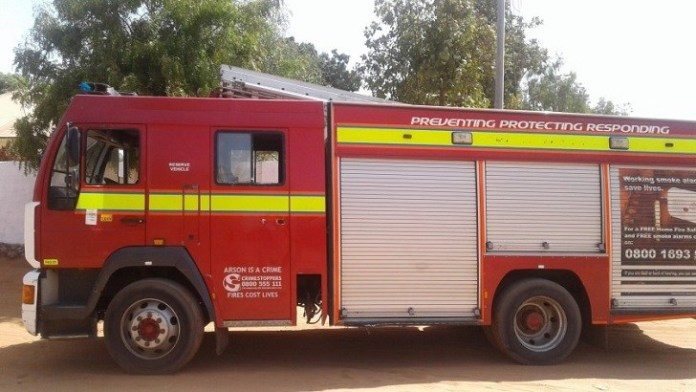 By Momodou Justice Darboe
Relatives of a Mauritanian man whose decomposing body was found alongside that of his wife in Kololi on Friday called on the authorities to conduct an exhaustive investigation into the circumstances surrounding the couple's mysterious death.
A section of a visibly traumatised Mauritania community Friday thronged the shop of the deceased along the Bertil Harding Highway where they insisted that thorough investigation be carried out to unravel the mystery shrouding the development.
Witnesses told The Fatu Network that the bodies of the couple were found in their shop and they were suspected to be there for almost three days. While
The Fatu Network could not immediately establish the couple's cause of death, the Mauritanian community say they suspected some foul play.
"We are still unable to come to terms with our compatriots death. The death is bizarre and strange in the sense that both husband and wife have been found dead in the shop and the doors were all shut," said Aziz Faal, a brother to the late shopkeeper.
"The deceased was a sturdy man and we couldn't understand how his wife could've overpowered him and then stabbed and strangled him. This is curious and we are appealing to the authorities not to bury the bodies until an exhaustive investigation is carried out," added another Mauritanian.
Musa Bachilly, leader of the Gambia Action Party, spoke to The Fatu Network on Friday and he explained that he was at the shop when the bodies were discovered. "I used to frequent the shop and the deceased [shopkeeper] was an amiable man. But when I came there two days ago, there was this foul odour coming from the direction of the shop. I immediately suspected something and then ordered someone to enquire whether the stench was coming from the shop and when he did, we realised that it was indeed so.
"So, he broke the window but found out that the shopkeeper and his wife were in but all dead. Their child was though alive and I advised my boys to ensure a proper care is taken of her. She was rushed to the hospital under my name so she can have the necessary medical care."
Asked as to whether he didn't suspect any foul-play, Mr Bachilly responded in the negative but he added that the couple were reported to have had several issues that led them to the police for several times.
He said he hope the matter will be thoroughly investigated.
The Fatu Network contacted the public relations officer of the Gambia Police Force Lamin Njie who promised to comment on the issue on Monday.