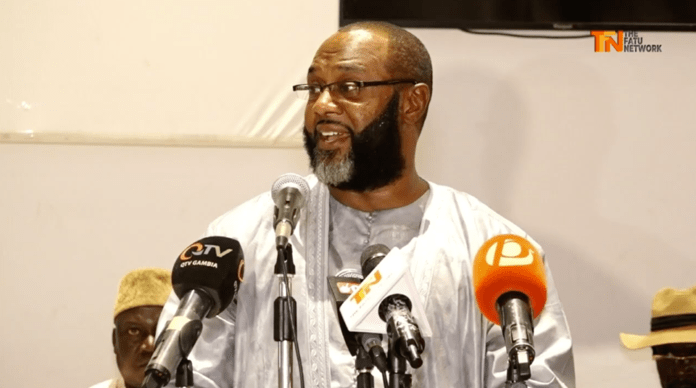 By Lamin Njie
A raft of Gambians have taken to social media to ridicule Musa Batchilly after the Gambia Action Party leader audaciously claimed he could fix The Gambia in 90 days.
"If they can borrow me Gambia, if they can borrow me. If Barrow can step out, borrow me, Gambia for like 90 days, Wallahi 90 days I will do a proper, effective impact the whole entire dunya (world) will talk about it. [In] 90 days I will do proper management. It [Gambia] [will] start walking," Batchilly exclusively told QTV.
Gambians have taken turns on social media to react to Mr Batchilly's comments.
Faith Cole posting a one-minute video of Mr Batchilly's QTV interview on Facebook commented: "Belie where did this man come from, Gambia belie du dem (Gambia will not move)."
Pa Amang Sanneh, reacting to Faith Cole's post, said: "Too bad I had to watch this gruesome show of a man. I'd rather we encourage leadership of people who are well contained in their emotions and ideas hence exhibit these in very excellent ways without having to sound aggressive, bullish and sarcastic. Met the man once in person some time last month, exchanged pleasantries though however snippets of this interview gave me an insight as to how much of power hungry individuals we have within our midst. God Save The Gambia."
Gambia First, said: "Hahahahaha….OMG " If they can borrow me Gambia 90 days, I will do a proper effective impact "…I will bring a battalion of proper technocrats "….I thought General Baxso was the worst English speaker among our politicians, but this Man surpassed him… Definitely kee dafa yabb Gambians…who in their right mind will vote for this clown ? Let him go sir somewhere please with his wolengish ( wollof + english ) dialect…lol"
Awa Omadi Sarr said: "…Borrow me Gambia… With that grammar, he might be worse than Barrow."
Kebba Ceesay said: "Hahaha seriously ths guy is a clown… So thsi guy was an executive member of GDC… No wonder they failed."