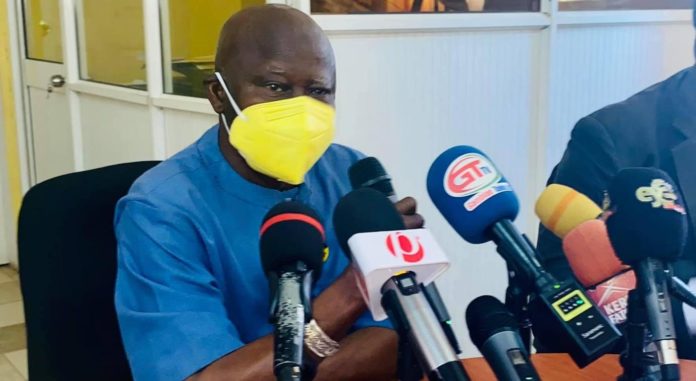 Saihou Saidily has praised UDP leader Ousainou Darboe over Monday's press conference that saw UDP reject any suggestions it is into drugs after the seizure of a party vehicle that allegedly carried cannabis.
In a new write-up, UK-based Saidily said: "Thank you UDP leader & flag bearer Hon. Darboe for that informative, clear and coherent press conference on the alleged cannabis issue involving a UDP vehicle. Now rational minded Gambians can definitely separate the wheat from the chaff in terms of what really transpired, pending the outcome of police investigations.
"This is another testimony of the fact that, unlike the current incompetent Government, UDP leadership doesn't shy away from facing the media no matter what. It's reassuring to hear from the Spokesperson that, moving on our Presidential flag bearer will be holding  monthly press briefings leading to Dec. 4th Presidential Elections to address issues of national dimension.  To this effect, when was the last time President Barrow held a press conference despite numerous never ending issues of national concern, from global pandemic to three recent murder cases, incident in Kombo Sanyang, daily rise in price of basic commodities and unprecedented importation of cocaine into the country.
"The variance in style between UDP leader and President Barrow in terms of showing regard to the citizenry is glaringly evident in that, unlike the latter, the former won't hide behind his Spokesperson to address his fellow citizens on issues of national importance.
"On the issue of the immigration officer who spoke so irresponsibly in a leaked audio, I concur fully with Hon. Darboe that, the DG of Immigration should act within civil service rules to address her improper and out of bounds attitude. In this regard, I hope Seedy Touray will for the sake of uprightness we expect of members of our civil service and security outfits, address Isatou Ceesay's issue swiftly and appropriately.
"Yes, focus of attention should be on the biggest cocaine scandal which as Hon. Darboe rightly put it, has an international dimension as well. 94 days now, no one yet to prosecuted for it with Banta Keita at large.
"Whilst, we await the conclusion of the police investigation on this matter, be assured the shenanigan of Barrow and his cohorts will not distract majority Gambian voters from key issues of rising prices of commodities, endemic corruption as validated by the latest audit report presented to the Chair of Financial and Public Accounts Committee (FPAC) of National Assembly in March this year, rising numbers in crimes in the country and of course the biggest drug scandal issue.
"To conclude, let me say this loud and clear, for a transparent and action oriented Government, please vote wisely on Dec. 4th by giving it to the UDP candidate. Happy Monday."