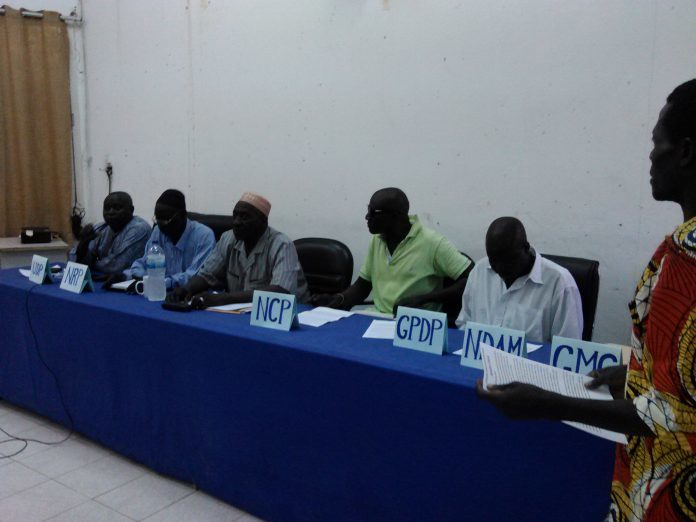 By Lamin Njie, Editor in chief of The Fatu Network
I will not disagree with anyone who says Solo Sandeng was a patriot. The first time (it was in fact the only time) I met Solo was during a press conference of the Inter-Party Committee on Opposition Unification. This press conference was held at TANGO on March 29, 2016. This came two before before the April 14 protest.
I arrived at TANGO at aroung 1pm and met Solo Sandeng interacting with members of the Inter-Party Committee which he was a member of. At this time, everyone was standing outside waiting for more people to arrive, including the leaders of the various opposition political parties. I was able to introduce myself to Solo. I was working as a freelance journalist and we briefly interacted. Solo later passed to me as a man well resolved to be part of those determined to save the Gambian ship, a ship captained by a bunch of madmen. The objectives of this inter-party committee included pushing for opposition unity in the country.
The TANGO press conference was held but not without drama. While we were all standing outside waiting for more people to arrive, the director of TANGO Ousman Yabo came out of his office and said the press conference will not be held at TANGO. He told Solo and his colleagues that he was not informed about the press conference. What's more, he told them he was assuring himself jail if he allowed them to have their press conference there.
But then I remember Kebba Singhateh who was the chairman of the committee surrounded by angry colleagues and journalists telling Yabo: "We will hold the press conference here because we have paid for the hall two weeks ago and if there was a breakdown of communication between you and your staff, then that is your business." It was one particularly heated moment and Solo stood out the entire time. I can remember him walking to a despairing group of journalists and telling them that they should stay as the meeting will go on by hook or by crook. I can remember him telling journalists to stay with them and if Yahya Jammeh and his people like they could come and arrest us all. He wasn't moved. The TANGO boss could only capitulate. But he also asked his staff to all leave the TANGO premises. They all fled TANGO. This included Mr Yabo and his deputy then Madi Jobarteh. I wrote a story on this and gave it to Freedom Newspaper.
The press conference which was chaired by Solo started late in the afternoon. The Inter-Party Committee on Opposition Unification said in a joint statement that they were throwing their weight behind a united force to challenge the ruling APRC party. The statement read by the committee's secretary Musa Sonko, stated in part: "A united force to challenge the ruling APRC party in the December 1 presidential elections is the best option for defeating President Jammeh at the polls. Gambians living in and outside the Gambia are all yearning for a unity among all opposition parties." At the end of the press conference, I walked to Solo and shook his hands. I was already falling in love with him. What I didn't know was that it was going to be the last time we'll ever see.
Two weeks later, Solo and some members of UDP staged a protest at Westfield. I had barely gotten to my house when my younger brother closed from school and told me there was a protest at Westfield. My younger brother told me he overheard people saying the protest was led by someone he was finding it difficult to remember his name. I wanted to go to Westfield but my younger brother told me the police had already arrested the protesters. I stayed home. I called some colleagues and found out it was Solo. I was not surprised at all.
As a Gambian and as a journalist, I was curious to know what was going to happen. The following day, an Amnesty International official confided in me that Solo Sandeng has been killed. I was shocked, just like any Gambian. I used the whole day thinking about the man I met just two weeks ago and in the night I could not sleep. I was still thinking about him. I confided in my friend Saikou Jammeh that I was going to meet Solo's family the next day and march to Westfield to demand for justice. Saikou told me that this was a super risky affair. That there were two things involved; that we could succeed and be celebrated or I could be leading the already killed Solo's family to slaughter house. I also informed my dad about what I wanted to do. He was apprehensive.
I was able to meet his wife, his a few months old daughter, his brother, his mother, his daughter (Fatoumatta Sandeng). I told them about this idea but the bereaved family thought it was best they consulted with the leaders of their clan. It was at Solo's house that his brother told me they are originally from Kaabu. I left them my number and told them they can reach out to me should they be open to the idea of staging a protest to demand justice in the death of their loved one. I didn't receive a call and I understood.
On Sunday, hundreds gathered at the Metzy Residence Hotel in Kololi for the Solo Sandeng Memorial Lecture. What was not disputed at this event was that Solo was a patriot who despite the barefaced dangers was determined to see a Gambia that is at peace with herself. To me, Solo was freedom. Solo was also liberty. Solo was also human rights. Solo was also dignity. He lived short but well.