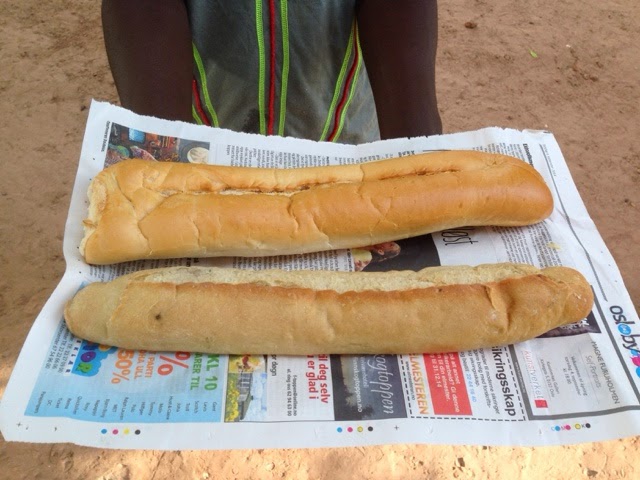 By Lamin Njie
Bakers in The Gambia on Sunday said profit margins were too low and unsustainable and that this was what necessitated the increase in the price of bread in the country.
The Fatu Network understands that the price of a loaf of bread has gone up by D1.
The bakers who spoke through their association, the Senfour Modern Bakeries Association, said they have worked "diligently over the last few months to address a lingering economic crisis occurring in the business of bread manufacture and distribution."
The bakers explained in a statement made available to The Fatu Network on Sunday: "Senfour Modern Bakeries Association would like to address the general public regarding the recent price increases and bread shortages occurring in areas throughout the region. Please be aware the members of this association have worked diligently over the last few months to address a lingering economic crisis occurring in the business of bread manufacture and distribution. We have met diligently and in good faith with several government offices to address this critical matter. Our sole purpose in engaging these officials was to ensure the matter is resolved in a way that consumers will be minimally impacted. In keeping with that purpose, we look forward to continuing to work with the government as we find permanent solutions for this urgent matter.
"Although it is convenient to blame increased prices on bakery owners it is crucial to comprehend the full picture. When bread is sold at D7, the average profit breakdowns are as follows; D4.50 for production, 50 Butut bakery profit, D1.25 Biker's profit, 75 Butut shopkeeper's profit. It is also important to note that capital investments for bakery owners range from 3 million to 6 million Dalasis versus the cost of a motorcycle or bicycle for bikers. Unfortunately profit margins this low are unsustainable for bakery owners who also have to consider equipment replacement and breakdowns and other expenses involved in supporting and growing their business. Our profits have reached this level because we were forced to give in to the aggressive demands of bikers (suppliers) that deliver to the public. In fact, wholesale prices have dropped so low that it has created a major economic crisis within bakeries.
"Product delivery is a huge expense in this industry which can be better managed. The bikers absorb a large portion of savings that could be passed to consumers. Retailers reduce their ability to offer lower rates to consumers when they insist on using suppliers. As it stands, the bikers control both wholesale and retail rates by using harsh bargaining techniques. We encourage all customers to buy directly from their local bakeries, as it will significantly reduce the burden to both manufacturers and retailers. This will also give retailers more control over their businesses and allow them to retail at favorable rates.
"Some areas are experiencing bread shortages. The association is aware of this gap and are committed to filling it as promptly as possible. To that end, we are asking consumers and retailers to help us identify these areas by contacting us at 247-2445. We will direct you to your nearest bakery or make arrangements to have bread delivered in areas where bakeries are not assessible. We also ask for your patience during this transition period. Although it will require adjustments, we believe that by resorting back to a culture that is less dependent on a third party for delivery, we can ensure bread remains affordable in our communities.
"As mentioned at the start of this release, we remain committed to working with the government and the Gambian community to ensure the bakery industry remains healthy and beneficial for all of its stakeholders."