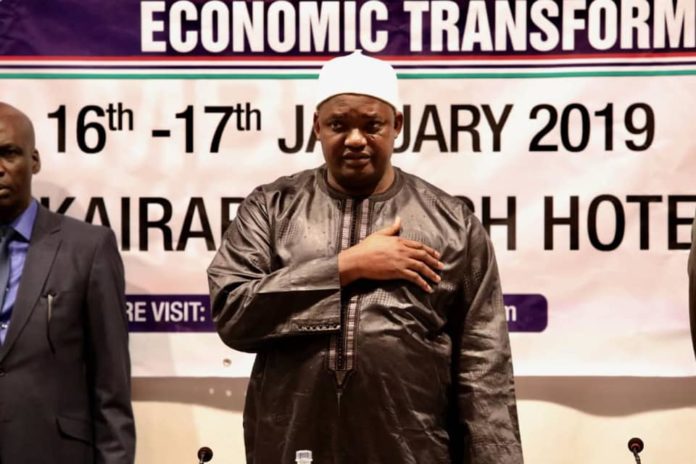 By Lamin Njie
President Adama Barrow has detailed how he left his options open including robbing a bank just for the United Democratic Party to go on a political tour of the country in October 2016.
President Barrow was chosen by UDP as its flagbearer for the December 2016 presidential election. The party had wanted to go on a tour of the country but it was starved of money.
Speaking on Saturday in Tallinding, President Barrow said October 2016 was difficult because the UDP wanted to go on a tour of the country but lacked the wherewithal.
President Barrow who is nowadays not in good terms with the yellow party said: "We should remind people of one particular day, a very difficult day. I can tell people that that day, a sign emerged in The Gambia that I was going to remove Yahya Jammeh. We did a tour when I was picked as candidate.
"I told people you picked me to be the candidate but I must go to Gambians and show them who were are and listen to their message. That was a difficult day, a difficult time. On that day, for us to go on that tour, we tendered a budget and the budget they say was 1.5 million dalasis. Then I was the flagbearer [of] UDP. The people we had our hope in abroad were the people who should sponsor us for us to go on our tour.
"We called them. Who was their chairman on that day? Alkali Conteh was their chairman. He was the one in charge of out finances abroad. When I called him, I told him we are supposed to go on a tour but our budget is 1.5 million dalasis. He told me they can't sponsor that because the money in their account was 5,000 dollars which was equivalent to 210,000 dalasis.
"Alkali Conteh is here as it is said that it's a liar who says that his witness is dead but for me my witness is here, Alkali Conteh is here. He sent me 210,000 dalasis only. We had a good elder who is a big backer of UDP and whenever I talk I say he is my boss that day brought me 40,000 dalasis. The money we raised was 250,000 dalasis.
"We had an outstanding balance of 1.2 million dalasis. We had a meeting and people said we will not be able to go on the tour. On that day also we needed a vehicle that will convey the candidate. There were people who had vehicles and we contacted them but it was not successful. But I told them they couldn't just pick me, we have to go and test ourselves and come back. So this thing, no matter what, even if I am going to rob a bank, I will go.
"That day was a difficult day. That time if you go to someone and tell him to help you but because you're UDP that person runs away from you because it's his belief that you want to bring him trouble. Anyone who had power, who had wealth, if you go to them they run away from you because they didn't want the government to know they are dealing with you.
"That was a difficult day and I told them we will go on the tour even if it means closing my business, even if it means I will sell my houses. Because a human being should be mindful of two things in life. In anything you're in, know that there are two things with you. One isin front of you and the other is behind you. The one in front of you is death but the one behind you is shame. On that day, we were between these two things, death and shame. But on that day I chose death over shame."