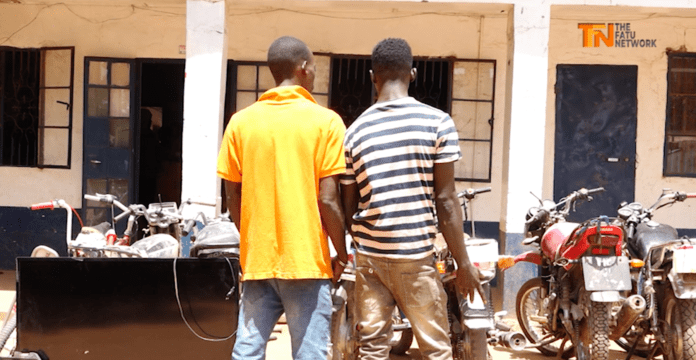 By Fatou Camara
Police have arrested two men over the theft of motorbikes, mobile phones, TV sets and other items.
Modou Lamin Sabally and Omar Jallow AKA Joe are accused of stealing six motor bikes , two bicycles, 10 mobiles phones , flat screens and other electronic materials.
Police spokesman Lamin Njie told reporters at Brikama Police Station on Wednesday: "Our officers here at the Brikama Police Station received a tip of information that some individuals are been involved in motor bike stealing.
"So they decided to investigate into the situation and eventually thorough search was conducted at the premises of Omar Jallow where all these motor bikes , mobile phones, Flat Screen Television were recovered on 27 March and eventually brought to the police station.
"What they do is, Omar Jallow carries the motor bikes to Casamance and then sell them to people and some times what happens is barter trade sort because he exchanges these motor bikes with some suspected canabis and our officers had recovered some suspected canabis from omar Jallow known as Joe."