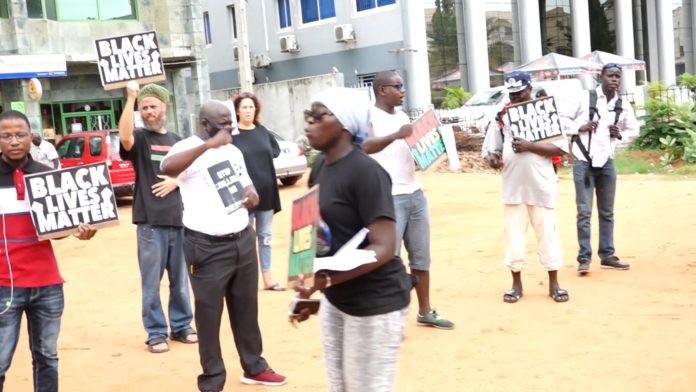 By Jaka Ceesay Jaiteh
Black Lives Matter activists on Saturday chanted 'we want justice' as they gathered in front of the US Embassy on Kairaba Avenue to protest against injustice and racism.
The 25 May fatal arrest of Minneapolis, United States black-man George Floyd continues to anger people mostly blacks in America and beyond.
Earlier this month, Rising Against Racism staged a protest in front of the US Embassy over George Floyd and Momodou Lamin Sisay's deaths.
Black Lives Matter The Gambia have also held their protest on Saturday, where activists led by Madi Jobarteh handed a petition to officials of the US Embassy.
In the petition are seven demands made by the protesters and these included: the release of the police video of the shooting of Modou Lamin Ceesay who was shot by a police in Georgia, to conduct investigations on police brutality against blacks in the U.S and ensure full justice and accountability and to conduct constitutional, legal and institutional reforms to read out and end cultural racism and to actively criminalise racism in all forms.
The petition was received by the deputy chief of mission at the American embassy Shelly Seaver.