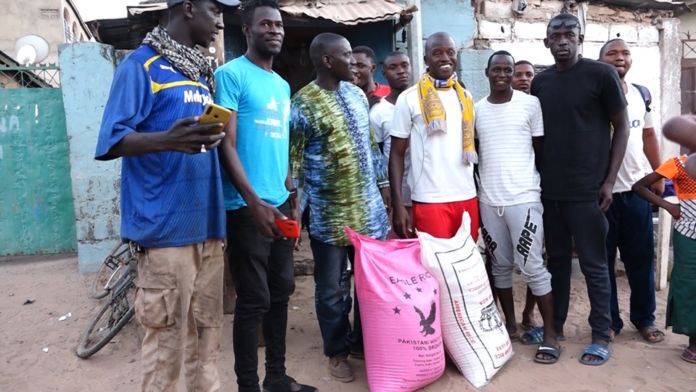 Former Presidential Affairs Minister and President of the Sabally Leadership Academy (SLA), Momodou Sabally, presented four bags of rice and detergents to the community of Ndangaan in the suburbs of Banjul, off Bond Road on Tuesday, April, 7, 2020.
The donation was made on behalf of the SLA, in support of the current fight against the COVID-19 pandemic and related challenges.
Presenting the items as well as two of his books, "Instant Success" and "Jangi Jollof" to the community, Sabally exhorted the recipients to use the donated items well, especially the liquid soap. He emphasised the need to abide by advice given by healthcare professionals, including proper hand-washing and social distancing.
He urged the youths in the community to cultivate the habit of reading and make good use of the books donated to transform their lives and become agents of positive change in their community.
A representative of the community, Augustus Sanyang, expressed gratitude for the items donated and assured Sabally that they would be put to good use; he stated that the donated rice was quite timely in view of the current state of emergency imposed by the government.
Mr. Sanyang also thanked the Fatu Network and their CEO, Fatou Camara for covering the presentation of the gifts, "Fatou was the first to recognise this place by coming here and interviewing one of our old ladies; the founder of this settlement, who was aged 125 years at the time."
In a related engagement, on the same day, Sabally also presented two bags of rice to an association of deaf people in Talinding. He used the opportunity to assert that disabled persons need support in many ways including sustenance given the current partial lockdown the country is going through.
Established in 2015, Sabally Leadership Academy (SLA) is a youth mentorship foundation aimed at educating, instructing and inspiring youths for self-fulfillment and positive contribution towards community development and national progress.