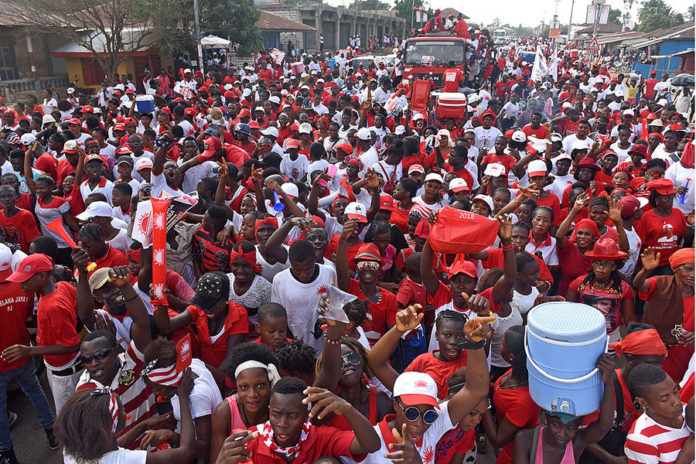 Anyone familiar with elections in Africa knows that it's trying times. It was with such caution of background that we welcomed the elections in Sierra Leone. The first round wasn't decisive, so like a football match that goes into extra time, the nerves become even more jarred as tensions rise. The run off has become like a penalty kickoff that wouldn't end, reminding Gambians of their own historic elections barely a year ago.
At around this time last year, Gambians at home, but especially in the diaspora were getting news of happenings on the ground from Sierra Leone's Umaru Fofana. He was one of the few foreign correspondents who stood their ground even after the ECOWAS deadline passed. He touched hearts and made friends with his honest reporting, and it was a farewell of mixed feelings when he returned to his native Freetown. We had grown to love him, but understood too, that his presence was no longer necessary, after the semblance of peace we managed to acquire with the presence of the foreign troops.
Today, on the Facebook wall of Fofana, not even the usually reliable reporter could dispel rumours of lil trouble in Lil Salone. He does not give one any peace of mind with his terse, and barbed comments. Apparently, he cannot confirm if all the news is fake, real or an April fool joke. One is forced to wonder why anyone would fix the date of an election on April fool's eve.
Borrowing a leaf from the books of our gone but not forgotten former head of state, the authorities in Sierra Leone did cut off the internet on election night, isolating the world from proceedings in Salone. That was loud alarm signals for those of us who've been there before. The connection has since been restored but the concerns still yet remain. While we await the results on a wing and a prayer, we cannot help but urge the people of Sierra Leone to do what is right by them.
The cries of "Cry Freetown" still ring in our ears. The Gambia was the favorite destination of Freetownians, thus the birth of the "Salone bekkeh, Gambian cheppeh." The infusion of the meeting of the two peoples and cultures has made indelible marks on us.
We call on Ernest Bai Koroma to enforce the will of the people, on the army to respect the majority voice and observe restraint and impartiality, while our word to the fun loving people of Salone is to dance the  threat away. Any people who partied through an ebola crises can see off a political impasse with a few Emerson tunes. While we await news of another peaceful transition of power, hot on the heels of Botswana, we remain cautious, of events in the "land that we love, our Sierra Leone."