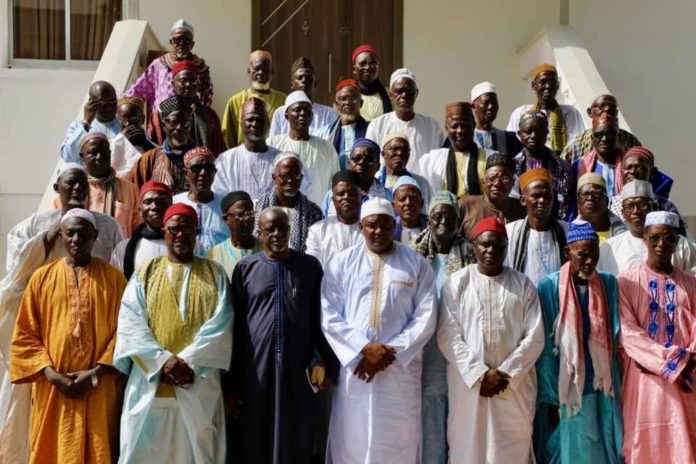 State House, Banjul, 28thOctober 2018
His Excellency, President Adama Barrow has promised to restore the dignity, independence and powers of the Office of the District Chief in The Gambia. Speaking at the State House during a meeting with chiefs from across the country on Saturday, the President said the glorious days when the institution of chieftaincy commanded respect and honour diminished during the former regime due to abysmal disregard and derision from the leadership.
"It was an important thing to be Chief of district in The Gambia. It was very honourable and royal. My government appreciates your roles and we do not wish to interfere with your traditional functions," President Barrow said after hearing ten representatives spoke on behalf of the visiting delegation.
He added that the former regime reduced the important roles of district authorities to political pawns, and made them objects of contemptuous ridicule by arresting, firing and humiliating chiefs. "You are important instruments of local government administration that can support my government to filter down development to the grassroots," the President added, stressing that local government administration is integral to the ongoing reform processes.
"My government's mission is to institute reforms in how this country is government and lay foundations for the future of democracy in this country. I am working hard to leave a legacy that would enable me to stay in this country after my presidency. I would not give any cause to institute another inquiry for my conduct while in office".
The meeting, which took place at the request of the local authorities, was called to discuss with the President challenging issues they face in the execution of their functions. They decried a number of constraints that hamper their work: mobility, delay in receiving their pay, lack of housing for their tribunals, and access agricultural machinery.
While explaining that they use agriculture to support their roles and activities at district levels, all the speakers were unanimous in thanking the President for drastically subsidizing the cost of fertilizer, which they described as a big relief for the farmer folks.
Minister of Local Government and Regional Administration, Mr. Musa Drammeh, welcomed the Chiefs to the State House and urged them to collaborate with government in delivering the goals of National Development Plan (NDP). Minister Drammeh said his office is aware of some of the difficulties the chiefs are going through, while promising that government is working on mechanisms to strengthen their work.
He also urged them to resort to alternative dispute resolution measures in settling conflicts at community levels. Mr. Drammeh re-echoed the pledge made by the President that their offices would be empowered to make the Chiefs effective in executing their functions.