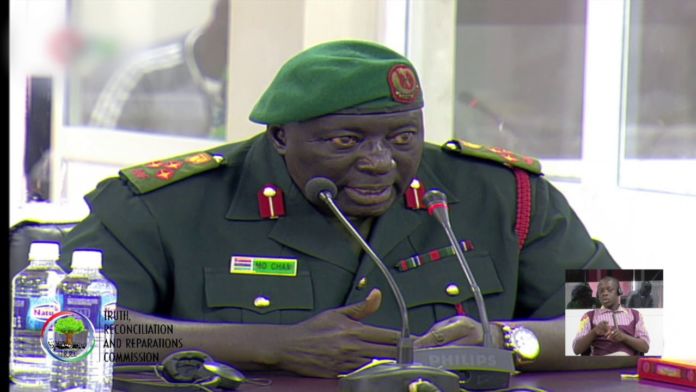 By Momodou Justice Darboe
The head of the Gambian army is on the firing line for allegedly likening those who want to nurture a culture of political decency to mutineers.
Operation Three Years Jotna has sharply reacted to General Mamat O. Cham's warning that any group that attempts to 'subvert' a constitutional order will come into contact with the army.
"I want to state here that the Gambia Armed Forces will not recognize anything that is not in line with the constitution. So any group, any political association that tries to subvert the peace and stability and the due process of achieving of any political power if you try that you will come across the Gambia Armed Forces," the top general said on state television, GRTS last week.
Though, the commander of the Gambia Armed Forces was not explicit, Operation Three Years Jotna movement said it's disappointed in General Cham in that he was comparing the members of the group to rebels. The group pointed out that such threats have no place in the new democratic dispensation.
"Therefore, Operation Three Years Jotna has strongly condemned those threatening remarks made by our security forces to the electorate or citizenry in general,'' Operation Three Years Jotna's Haji Suwaneh said in a news conference in Tallinding on Monday.
"He compared us to soldiers who were planning a mutiny, as people who want to overthrow a legal, elected government and if anything like that arises as soldiers they would crush the citizens to make sure they defend that elected government which as Gambians we say Never Again.''
Mr. Suwaneh explained that the role of the Gambia army is to protect and defend the country from any external aggression and that the army is not a force to stifle democratic expressions.
"We want to remind the commander that Gambian citizens calling on the President to honour his words that was given to citizens is in line with the Constitution. We are making our stance clear that we will never allow any individual to come and play or undermine our democracy that we fought for. Gambia belongs to Gambians and holding our leaders accountable is a democratic responsibility,'' he stated.
The group's chairman also lashed out at the army commander saying 'we heard them trying to whitewash the statement but we are not fools.'
"I heard the PRO on the radio saying people should not twist go about things their statement. We are not fools," Abdou Njie said.
He added: "An elder who is in his right state of mind when speaking should know what he is saying and how people are going to hear and receive it.
"When Yahya Jammeh staged a coup, he (General Cham) was in the army. What did he do? Because the person Yahya removed was constitutionally elected by us."
Operation Three Years Jotna, meanwhile vowed to up the scale in holding elected and appointed public servants accountable for their deeds and words.