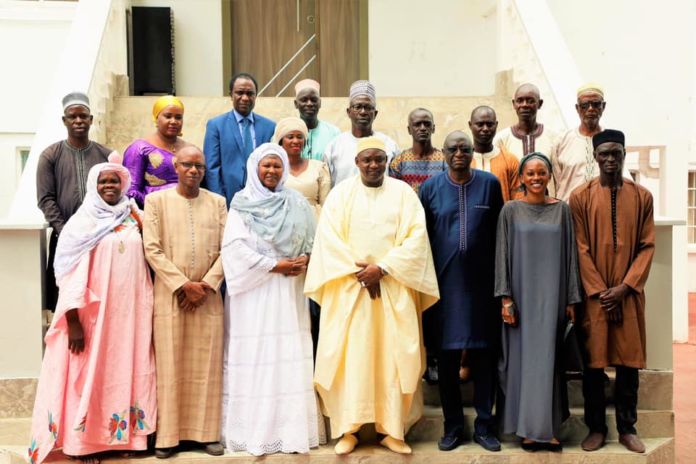 By Momodou Justice Darboe
The grassroots pressure group Operation Three Years Jotna is not impressed with the composition of the coalition stakeholder group that last week extended the mandate of the transition government from three years to five.
The group has also questioned the integrity of the coalition leader Fatoumatta Jallow-Tambajang to lead and negotiate any amendment to the coalition agreement as no official reason has been advanced for her sacking as the country's vice president.
Representatives of five political parties of the seven that formed the 2016 Coalition, led by Fatoumatta Jallow-Tambajang, were last Friday in a conclave with President Adama Barrow at State House in Banjul and the outcome of the close-door meeting was the extension of the coalition three-year agreement to five years.
But reacting to the Friday State House meeting in a press briefing on Monday, Operation Three Years Jotna said it is concerned about the development.
''On 27 September 2019, Fatoumatta Jallow-Tambajang decided unilaterally that she should collect some members of the Barrow-supported camp to join her deliberately extend that legally-binding contract from three years to five years,'' Haji Suwareh, an Operation Three Years Jotna executive, told journalists.
''In 2016, the coalition was having seven political parties but the group which announced the amendment for the extension….we have never seen those faces in that amendment; the reason why Fatoumatta Jallow-Tambajang should explain,'' he added.
"In fact, some vocal persons, parties in that 2016 coalition has never supported the five years," Suwareh said.
The group insists that any amendment to the 2016 Coalition manifesto must be a product of broad and 'proper' consultations with the citizenry who elected the coalition government with the conviction of serving only three years.
"We still believe that the contract of three years is between the coalition executives/stakeholders and Gambian citizens in general. So, therefore we believe that if any amendment or changes shall take place on that agreed transition, they should make proper consultations with citizens who voted them on the basis of three years,'' Suwareh noted.
The pressure group advised the coalition stakeholders to go back to the drawing board so as to effect amendments that would be agreeable to the citizenry.
See our Facebook page for more on the Operation Three Years Jotna media briefing.