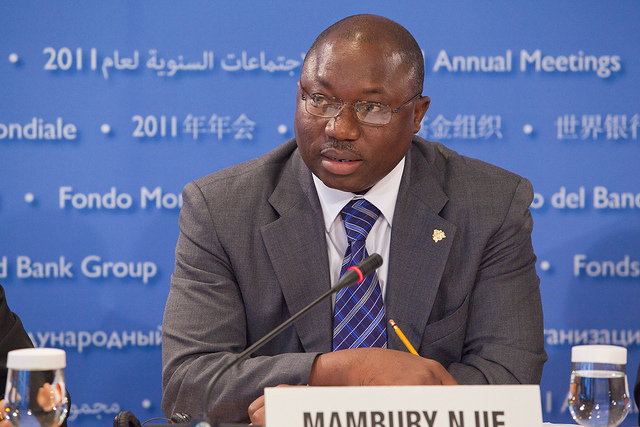 Honourable Minister and my dear brother,
I must start off by admitting my own sadness at having to write to you once more on this very bitter and discomforting subject. Surely it is not my intention to cause you so much discomfort but I have no choice but to proceed to the third part of this series due to circumstances beyond my control. This piece is actually occasioned by a commentary I read on your recent troubles with the National Assembly concerning the (now dirty) word, virement.
The commentary, that was made by your own friend, actually indicted you and vindicated our courageous NAMs who vociferously scolded you for your fiscal malfeasance.
Unlike people like me who are being wrongly accused (by your spin-masters) of holding ulterior motives against you, Sanna Darboe of SMD Policy Management Institute  cannot be accused of being your adversary; because he is your friend and you have been a dutiful client to him from your days as Managing Director at The Gambia National Petroleum Corporation (GNPC) to date, facilitating for him juicy contracts to train public officials like Higher Education Minister Badara Joof; surely, Badara might go down in our history as the most trained serving Cabinet Minister thanks to his insatiable desire for per perdiem, regularly flying to Dakar to be 'trained' by Sana.
Alas, I have no choice but to return to this matter concerning which you remain defiant, that you did the right thing and would continue to slice and dice our National cake as you see fit despite the umbrage visibly demonstrated by the legislative authority. The irony is that without the legal blessing of this same National Assembly, you would never have any mandate to dispense those public funds you have now held hostage. Therefore, I cannot remain quiet for the bards of reggae keep inspiring us and the muse must follow suit. It was the artiste Jah Mali who sang: "Lightening, brimstone and fire … your evil is taking root but we are here to expose the truth."
The truth is bitter but it must be spoken especially in these very trying times of our national restitution and reconstruction process.
I  stated in part two of this series that, ordinarily, virement is not a crime in the budget implementation process. And so argues your own friend Sanna Darboe. In a long commentary published by Mansabanko online, the seasoned economist and former public official tried as best he could to sugarcoat the truth regarding your current debacles with the National Assembly. But just as is customary with the truth, press it into the deep waters as you might, it will resurface to the light of day like a cork in a river. After a long sermon, here's your own friend's conclusion on this matter and I quote:
"the magnitude of the coronavirus related expenditure required, would fundamentally alter the allocation of expenditure appropriated by the legislature and therefore, requires its approval … it is a supplementary appropriation that is needed. Emergency expenditure can be allowed through virement but must be regularized through the supplementary appropriation,"
Like I alluded to in the opening statements of this epistle, those of us speaking these inconvenient truths in the public space, do not necessarily take pleasure in doing so but it appears as if there is a sacred force speaking through us.
Your friend, Mr Darboe, took pains to go through a lot of verbiage before arriving at the inevitable conclusion in his commentary. He quoted myriad sources like world bank and bored his readers with a lot of prevarication but he had no choice but to utter the bitter truth at the end of his analysis. What he said is simple, you had no right to play with the appropriated amounts clearly set out in the budget. The proper thing to do was to go back to the National Assembly as suggested by the deputies and seek approval for a supplementary appropriation bill. But you are too wise and too important to go through that process.
Now Honourable Minister, please tell me what is the difference between what your friend said above and the contentions held by deputies like Honourable Ya Kumba Jaiteh and Sidia Jatta?
Yes, virement at reasonable amounts that would not alter the appropriated totals for the budget heads/ministries is understandable, albeit not ideal. But a deliberate butchering of the budget is unacceptable and unconscionable. Now why are you so defiant in this matter? Have you not read about the inevitable consequences of hubris?
Better late than never, you should just eat humble pie and head straight for the National Assembly with a supplementary appropriation bill. Do not just go there with a matrix of numbers to be approved. Please go to the Assembly with a revised Budget Framework Paper (BFP) because all of your assumptions in the BFP that explained the background and policy ethos of the 2020 budget have been torpedoed because of the new realities thrust on us by the macroeconomic consequences of the COVID-19 pandemic.
And lest I forget, what is the latest on the Banjul Breweries Company? Has this company not closed shop partly because of your unprecedented tax hike that rendered their operations unsustainable?
May Allah guide you and protect whatever is left of sound nature in our macroeconomic framework in these trying times.
Regards,
M. Sabally
Former research economist and National Budget Director, Momodou Sabally has undergone extensive professional training in macroeconomics and public financial management at the IMF Institute, the Central Bank of England's Center for Central Banking Studies, Harvard University's John F. Kennedy School of Government and holds a masters degree in Economics from Georgia State University in the US.