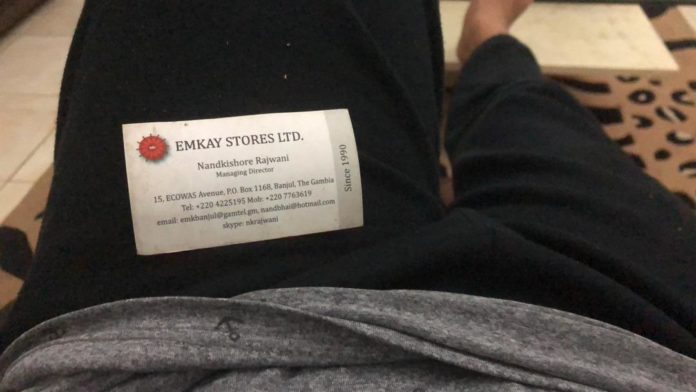 By Lamin Njie
Associates of businessman Nandkishore Rajwani, the managing director of EMKAY Stores have praised the businessman over his contribution towards the development of the Gambian economy – as they pushed back at claims foreign investors are not willing to compete with the natives.
Scores of Gambians have insisted that a foreigner cabal have seized various sectors of the Gambian economy and are bent on destorying any Gambian that tries to compete for supremacy.
The review comes amid a rowdy court battle between EMKAY Stores and Alasan Ceesay and his Rahma Gambia Limited company.
Mr Ceesay through the PR agency that works for him had also told The Fatu Network that "as a Gambian-owned business, when our client ventured into the food and commodities business – a sector dominated by non-Gambians, it expected a strong pushback and resistance from the current market players".
"What we did not expect though is that anybody will go as low as fabricating falsehood and unfounded allegations just to achieve that," Picasso Global Communications had said.
Musa Jawneh, the man who has been accused of leaking the story of Alasan Ceesay to The Fatu Network while responding to the claims said he has been with Mr Rajwani for 25 years and knows him to be a good man.
"He is a hardworking man who has helped a lot of Gambians and has sponsored a lot of companies," Jawneh said.
He added: "Myself I have three companies and more than 20 staff are working in each company. I'm also into rice importation.
"I am a witness to Mr Rajwani giving goods to people to the tune of more than what he gave to Alasan.
"But Alasan took his goods and there is law in the country. There is no truth in all the claims that there is a conspiracy against Gambians."
Samba Batch Njie whose father is prominent late Gambian businessman Modou Musa Njie said: "I want the truth to come out. It's the jealousy. How can you have a mafia? In what sense?
"I have been with this man for 30 years. He loves this country and he is among the people who are developing this country in terms of jobs. He has lived in this country for 30 years and he has helped a lot of people.
"They are entitled to their opinion but here is a man who gave a Gambian an opportunity by trusting him with his goods, so that he (Gambian) too can make his profit.
"Any foreigner that comes into the country would have to use Gambians to start but that doesn't mean the Gambians conspire with them to destroy their fellow Gambians."