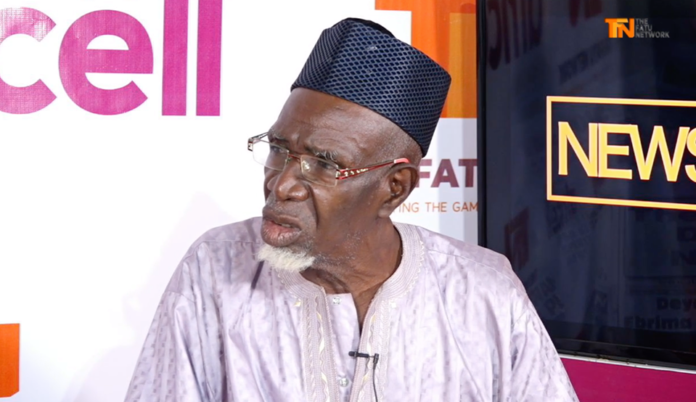 By Lamin Njie
When it comes to wealth, power and influence, Morry Gassama had a bag full of it. Morry was wealth and wealth was Morry.
Morry Gassama was one of the country's top diamond dealers. Born in 1950 in Basse Koba Kunda (according to his official documents), Morry left The Gambia for Sierra Leone in 1965 to take up a career in diamond dealing.
"I first went to Sierra Leone where I specialised in digging the earth for diamond," he says.
After a year, he left Sierra Leone for Liberia in an attempt to proceed to Congo then called Zaire.
"I wanted to go to Congo but they deported me back to Sierra Leone," Morry says.
From 1966, Morry stayed in Sierra Leone and continued trading in diamond.
"I was supporting those that are mining and I was also into buying and selling of diamond," he says.
"I then became very popular in Sierra Leona. In 1970, I made some big money. I was there with my uncle."
Morry returned to The Gambia in 1971 but was arrested.
"I was arrested by the police because they said the diamond I had with me was a lot," he says.
"I was in a court battle with the government for three years. I won that case which lasted for three years, between 1971 to 1973. I was powerful, I had hired three lawyers among them Lawyer Drammeh who is Ida Drammeh's dad. The government owes me a lot of money over that 1971 case."
Morry went into business as soon as he returned by opening a petrol station in Basse but that business didn't really cut for him.
"My dad asked me to leave and I left for Congo in 1975," he says.
In Congo, Morry spent the next years dealing in diamond. He was well-known and well-connected among captains in the diamond trace and industry.
"In the 1980s, I was connected. White men were travelling with me to the forest diamond sites to get diamond. We would charter planes for this," Morry says.
According to the 70-year-old, they would get the diamond from diggers and take it to countries like Belgium.
"I made some good friends, the likes of Abdalla Wazni and John Siberi," he says. "There were times they would send me at least one million dollars daily in a plane for me to go to the diamond site to get diamond."
Mobutu Sese Seko was Congo's president at the time and Morry was close to him too.
"I was close with Mobutu. This resulted in me becoming just friends with his wife's sister," Morry says.
Morry was hugely influential in Congo; he even married the winner of Miss Congo of the year 1985.
"I married Fatoumatta in 1986," Morry says.
Things suddenly started crumbling for Morry in 2006 when he was arrested in Senegal for entering the country without declaring he was carrying diamonds with him.
"I was there to sell my diamonds to business partners," Morry says.
"Senegal just wronged me, there is nowhere in law which says you should declare your diamond either in The Gambia or Senegal."
It was the Senegalese customs that took Morry's diamonds.
"They took my diamond and valued it at $464,000. They then gave me a receipt."
Morry was then jailed for 11 months in Senegal following his arrest.
"I went to 28 times, I was also taken to almost every hospital," Morry says.
"On the 28th time in court, I collapse in court. They wanted to take me to the hospital but I insisted I would be fine if the case was heard. The court then agreed to free me."
Morry was then released from prison and asked to leave the country.
"They said they would only pay the 10 million CFA I paid at the customs and the 10 million CFA I paid for my lawyer and leave my diamond behing and leave the country. I said I will not do that," Morry says.
"They said If I do not do that they would take the matter to the supreme court. They took me to the supreme court which spanned five years and again I won."
According to court documents seen by The Fatu Network, the Senegalese top court ordered the Senegalese state to return Morry's diamonds as well as the money he paid to the customs and his legal fees.
"I have since been going up and down knocking on the door of government departments both in The Gambia and Senegal – foreign affairs, ministries of justice of Gambia and Senegal etc," Morry says.
"In my attempts to get my diamond back, I met the procureur general (attorney general) of Senegal. He asked me to bring him the files. I took them from my lawyers and gave them to him. He said if I want my 20 million CFA, they will pay that but I will die without getting my diamonds back. He (attorney general) was the issue was now between state and state."
Former President Yahya Jammeh made several attempts in order for Morry to get his diamonds back.
"Jammeh tried, he wrote a letter and asked Tangara to take it to Macky Sall," Morry says.
"The whole world knew about that and Macky Sall said he was going to ensure I get my money."
One would think because Macky and Jammeh were not the best of friends is the reason why he couldn't succeed in getting Morry get his diamonds back. Morry was then filled with hope when President Barrow came to power.
"I became hopeful when the new government came. I met [Ousainou] Darboe and he said they will help me. Ousainou Darboe didn't help me at all," Morry says.
In 2019, Morry wrote a letter to President Adama Barrow seeking his help in retrieving his diamonds.
"President Barrow knows about the issue. It was Amie Bojang who took the letter to the secretary general but they didn't do anything. They said it's ministry of justice that should take care of my case," Morry says.
State House's director of press and public relations Amie Bojang Sissoho did not respond to a email request for comment.