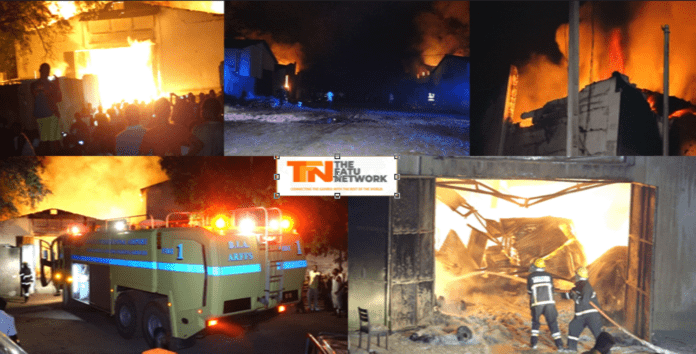 By Momodou Justice Darboe
A huge fire at the Kanifing Industrial Zone Sunday evening caused colossal damage to property estimated in millions of dalasis.
At around dusk on Sunday, deafening sounds from exploding gas containers could be heard several kilometres from the industrial zone with conflagration and thick smoke billowing several metres sky-high.
First of its kind in the history of fire outbreaks in the country, the sounds of explosions from the fire have sent many in the residential areas of Kanifing and Old Jeshwang out from their houses onto the streets for either out of curiosity or panic.
As of on Sunday night, no live has been reported lost in the fire but the victims mostly factory owners have started counting the costs.
President Adama Barrow on Monday visited the disaster site to view the damage caused by the fire.
"It's a very unfortunate situation but I cannot thank the fire service enough for the hard work under very difficult circumstances. We are here to see and assess what we are going to do," Mr Barrow said.
The cause of the fire disaster has not been officially established yet but sources say it started from Hadim Gas Company and the destruction that it caused the gas distribution company and the businesses around it is unquantifiable.