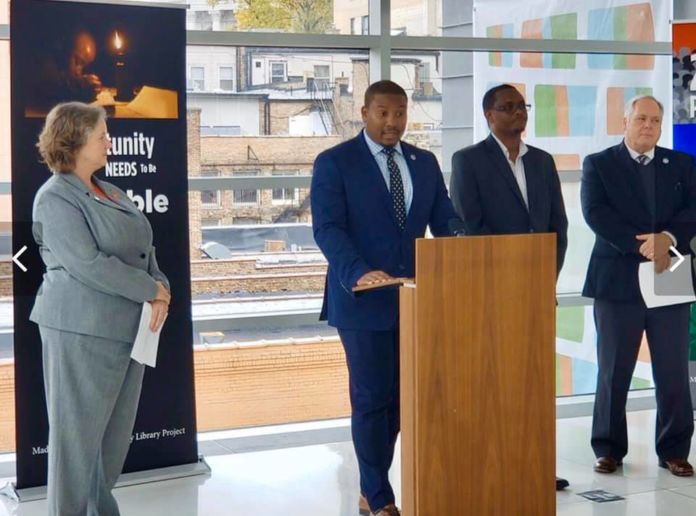 By Lamin Njie
Saida Aisha Faal whose Facebook account says she is the public affairs manager at Kanifing Municipal Council has accused The Fatu Network of smear campaign after the outlet reported Talib Ahmed Bensouda's claim that students in The Gambia learn underneath streetlights and in public markets at night.
Bensouda is on a visit to the US city of Madison to push a partnership that could see Madison help construct a public library in the Kanifing Municipality.
At a meeting with Madison council officials, The Cap Times, a newspaper published in Madison, quoted Mayor Bensouda as saying: "The initial stage is to do something immediately because we feel we have an emergency on our hands.
"Students need to immediately have a safe space where they could learn. Right now how students learn, especially in the wee hours of the night, is using public facilities such as markets or streetlights. So as you can imagine, that is a very unsafe way to learn."
Gambians reacted to Mayor Bensouda's claim with many saying such a situation is found nowhere in The Gambia.
But Saida Aisha Faal has attacked The Fatu Network over the article saying the outlet is engaged in smear campaign.
She wrote in a Facebook post: "Dear [The] Fatu Network, it's amazing that with all the mayor has said and all the effort to bring about the first municpal library project (worth $3.5million dollars) that would benefit KMs over 100,000 student population which is really the mandate of the ministry of education … all you can do is a smear campaign instead helping raise the funding …
"Gambia's youth population is exactly 63% (google it) and yes it was in my presence Where two groups of students told the mayor that they study under the street lights, Bundung maternity hospital and Serekunda market, even MDI ROAD under the street lights…..so that's facts for you …
"PS it has come to my attention that you don't cover any of the mayor's initiatives or major projects and this is your first story … it would be nice to have objective journalism in the country…"
Editor's note: It is extremely unfortunate for someone who calls herself a public affairs manager to attack a media outlet for simply doing its job. A cardinal role of a journalist is to hold holders of public office to account. If the council's public affairs manager really understand journalism and what media is all about, she will realise what we reported is the most important part in the mayor's speech. Students learning under streetlights and in markets is a national emergency that is worth reporting for urgent national action. No wonder The Cap Times picked that angle being the paper that first reported it. Nowhere in the story did we say the mayor was lying. That conclusion is for the readers. If indeed the mayor was right, as claimed by Saida Aisha Faal that she was present when two groups of students told Mayor Bensouda they study under streetlights and in the market, then this report should not come across as a problem to her and by extension the entire KMC. On the issue of us not covering the mayor's activities, because we have not been receiving any notification or invite, we would not be in a position to know what the mayor's activities are.