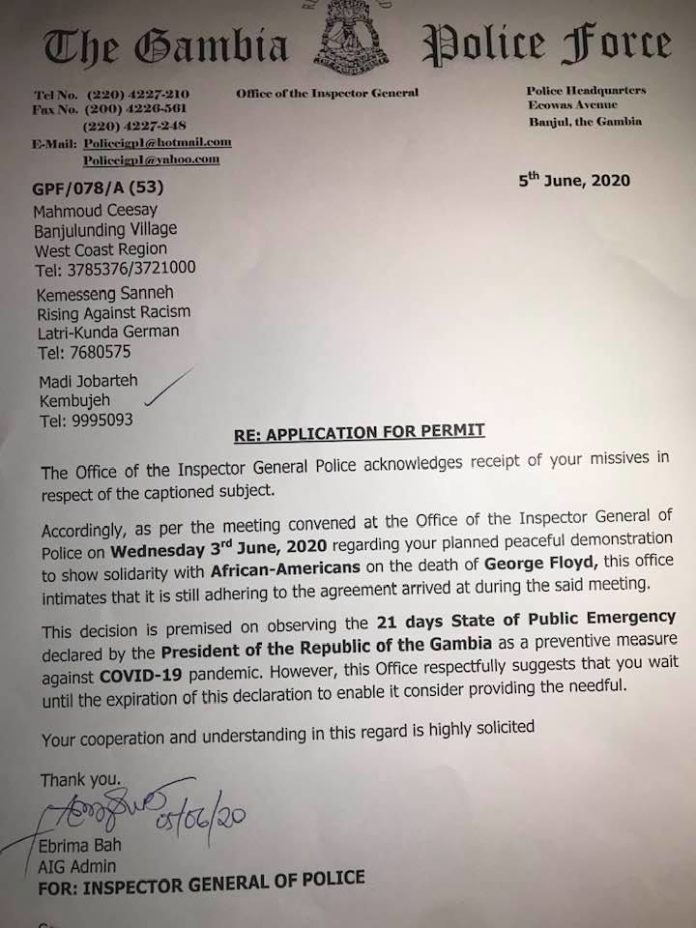 By Lamin Njie
A letter from the police asking a group of Gambians planning to protest against racism in America to temporarily shelve the idea has been shared online by Madi Jobarteh.
Madi Jobarteh and some Gambians under the group name Black Lives Matter The Gambia had wanted to protest outside the US Embassy in Banjul on Monday against the killing of black man George Floyd and Momodou Lamin Sisay.
The group had applied for a permit to embark upon the protest only for them to be told verbally by the police chief he would not be able to grant their request due to the state of emergency.
Madi Jobarteh then announced that the protest had been postponed after a meeting with the police chief. His announcement was however greeted by claims online Gambian activists are not genuine as they didn't complain against the IGP's decision.
On Friday, Mr Jobarteh shared a letter the police chief wrote to them through his assistant.
"This decision is premised on observing the 21 days state of public emergency declared by the president of the republic of The Gambia as a preventive measure against the COVID-19 pandemic," the police chief in the letter signed by Assistant Inspector of General Ebrima Bah said on Friday.
It added: "However, this office respectfully suggests you wait until the expiration of this declaration to enable it consider providing the needful."