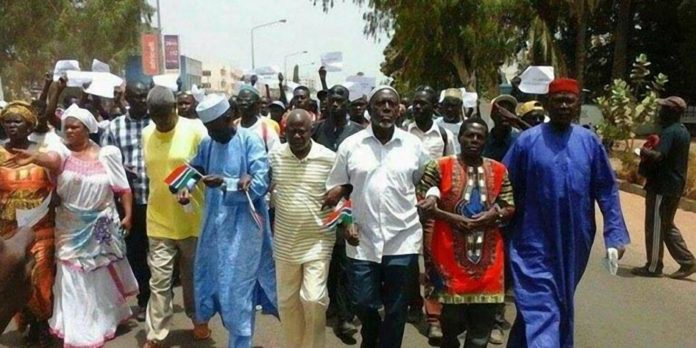 By Fatou Sowe
The Supreme Court of The Gambia has Thursday, November 23, dismissed the civil suit instituted by Ousainou ANM Darboe challenging the constitutionality of section 5 of the Public Order Act and section 69 of the Criminal Code.
This decision of the court was contained in a judgment read by the chief justice Hassan B. Jallow who stated that the suit fails in its entirety and dismissed accordingly as the court finds the challenged sections consistent with the Constitution of the Gambia.
The court arrived at this decision after evaluating the issues formulated by the plaintiffs in their case who claimed that the exercise of a right give under section 25 of the Constitution should not be subjected to the approval of the Inspector General of Police as provided in section 5 of the Public Order Act.
"The restrictions on the exercise of a right is not an abolition of that right." C. J. Jallow said. He added that the power of the IGP to issue permit or deny same does not have any effect in the constitutionality and validity of section 5, he added that the requirement of a permit, must be sought before one embarks on a procession is not inconsistent with the Constitution as claimed by the plaintiffs.
On the challenge on section 69 of the Criminal Code, the court held that the wrongful use of the law in a charge does not amount to unconstitutionality.
Accordingly the court said that the claims of the plaintiffs are dismissed in their entirety.
It could be recalled that Ousainou ANM Darboe who is the leader of the United Democratic Party (UDP) and currently the foreign affairs minister was last year prosecuted alongside several militants of his party on charges related to unlawful assembly.
During the trial he (Darboe) and others filed a suit before the Supreme Court seeking for the said court to determine the Constitutionality of the charges of unlawful assembly, riot, holding a procession without a permit and disobeying an order to disperse from an unlawful procession.
They further sought for the court to declare these laws null and void and accordingly strike it out of the statutes for its inconsistency with the Constitution.
It was agreed by the parties that the case of Lamin Sonko and others (the April 14 protesters) shall abide by the judgment of the case of Ousainou Darboe and same was adopted by the court.