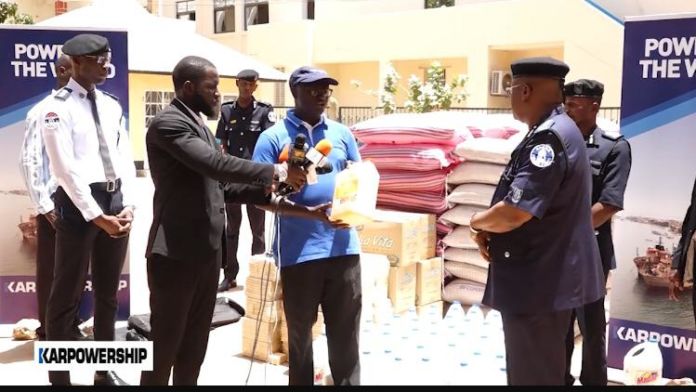 By Lamin Njie
Leading power production company Karpowership on Tuesday donated rice and sugar and other food stuff to the Gambia Police Force, Banjul City Council, an orphanage and a school.
The company also gave sanitary items to the police, BCC, an orphanage and a madrassa (Islamic school) to support Gambians amid the coronavirus pandemic.
At the police headquarters where the first presentation was made, Karpowership's country manager Yankuba Mamburay said it was part of his company's corporate social responsibilities which it has been engaged in since they started working in The Gambia in May of 2018.
"We have been mandated to produce up to 30 megawatts of electricity. We have been doing that for the past two years and I believe everyone has seen the impact of Karpowership in this country," Mr Mamburay said at the event.
Police chief Mamour Jobe heaped praised on Karpowership saying the donation could not have could at a better time.
"There's a common saying that if you're given a gift, your response should be very short and all that you would say is 'Thank you'," Mr Jobe said.
Karpowership officials then proceeded to Banjul City Council where a similar presentation event was made.
"We are very pleased to be here Lord Mayoress. We are glad to work with you and we are glad to be hosted here in Banjul," Yankuba Mamburay said at the event.
The mayoress of Banjul City Council Rohey Malick Lowe taking delivery of the items thanked Karpowership and said she was happy to have played host to the company.
"I want to assure Karpowership that their gesture will be filtered down to the community and that they should be rest assured that they have done something that will forever be remembered by the people of Banjul," the BCC chief said.
The Karpowership team rounded its Tuesday's assistance in Wullinkama where an orphanage and an Islamic school were given food stuff as well as sanitary items.