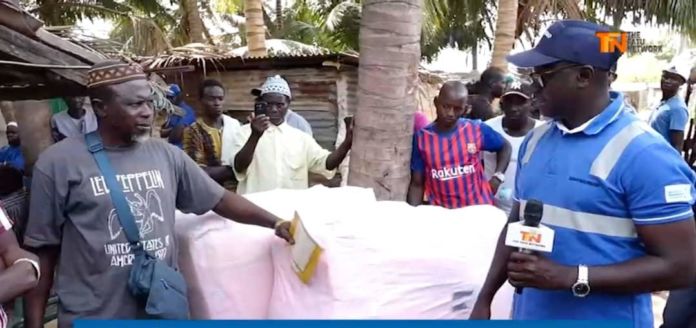 By Momodou Justice Darboe
Karpowership on Wednesday handed over fishing gears to the fisher-folks in Banjul as part of the company's contribution towards improving the country's artisanal fisheries sub-sector.
Karpowership is a floating vessel active in the supply of electricity in some countries in the Middle-East, Asia and Africa and the power production outfit prides itself in investing in the socio-economic development of countries in which they operate.
And in keeping with this tradition, Karpowership yesterday gave, among others, life jackets, floaters, ropes and nets to the fishermen and women of Banjul in the hope the materials would help improve the quality of life for them.
Artisanal fisheries sub-sector is a significant source of employment and household nutrition and Karpowership believed that the items it donated the fishermen will have ripple effects.
"We have no doubt that these items that we are presenting here today will benefit the beneficiaries immensely and that the benefits will extend to the general population as the gesture would create quite a positive impact on the fishing industry,'' said Mr. Yankuba Mambury, Country Director of Karpowership during a presentation ceremony held at the Banjul beach.
He stated that Karpowership is resolute in its involvement in social projects for improved wellbeing of the local people.
''With our operations in The Gambia, the company will continue to engage in social responsibility projects that will help with the growth of the local people as well as providing educational tools. As a strategic partner, Karpowership is committed to Gambia's development and will continue to provide all Gambians sustainable, reliable and affordable electricity for many more years to come,'' he added.
According to Karpowership country boss, the company has doled out hundreds of bags of rice and sugar to the needy in the past two Ramadans, Tobaski rams and that it had also given support to the NEA for last year and this year's International Coastal Cleanup Day as well as the rehabilitation of a unit of the Children's Wing of Edward Francis Small Teaching Hospital in Banjul.
"Thanks to our intervention, we have been able to make available water supply to the unit,'' he enthused.
Meanwhile speaking on behalf the beneficiaries, Abdoulie Ibra Bah acknowledged the contributions that Karpowership has made and continues to render to various areas of national development endeavours.
He said it was both heartwarming and gratifying to receive support from the company, adding it was timely, necessary and will give them an uplift in their fishing activities. Mr. Bah then gave an assurance that the materials would be purposefully utilized.
The handing over ceremony was attended by officials of Karpowership and some members of the Banjul fishing community.