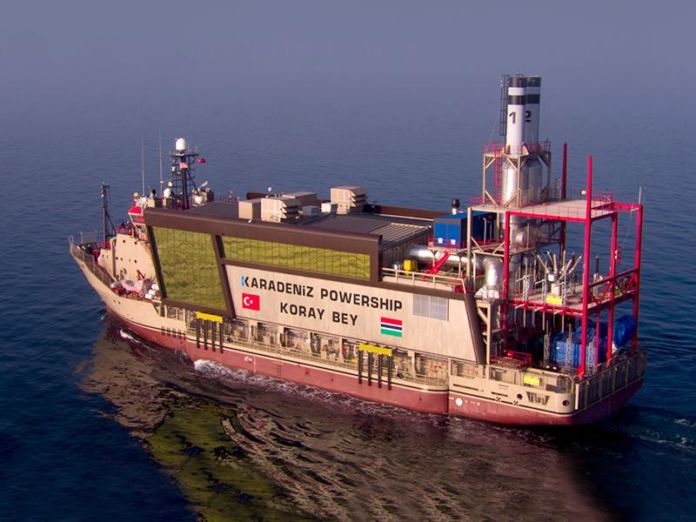 Banjul, The Gambia – Karpowership has been connected to The Gambia's national grid since May 2018 and been providing reliable and affordable electricity since the first day of operation. Karadeniz Powership Koray Bey, with its 36 MW has helped to significantly reduce the electricity supply gap in the country.
Recently, Karadeniz Powership Koray Bey had to implement a technical maintenance process due to the need to renew equipment. As a floating power plant with the ability to provide continuous operation without the need for stopping service, above market standards, the Powership needed replacement of equipment for more efficient and affordable power generation. During this period, the Powership continued to generate electricity at a lower rate, and after replacement of the equipment, the Powership is back to operating at agreed contract capacity, as of February 27th, 2020 at 11:30 AMand will continue to serve the good people of The Gambia.
As a key strategic partner, Karpowership is committed to The Gambia's development and will continue to provide all Gambians with sustainable, reliable, and affordable electricity. 
About Karpowership
Karpowership is the owner, operator and builder of the only Powership™ (floating power plant) fleet in the world and plays an active role in medium to long-term investments; providing access to fast-track, affordable and reliable electricity. Powerships have a range of 30 MW to 470 MW and are delivered ready to operate in less than 60 days. Currently, Karpowership owns and operates 25 Powerships with an installed capacity exceeding 4,100 MW and another 4,400 MW are under construction or in the pipeline. In addition to a Powership fleet, Karpowership owns and operates its own LNG fleet.  With expertise and experience in the field, Karpowership serves as a one-stop-shop for LNG to Power solutions, as a single provider delivering all parts of the value chain; including but not limited to LNG sourcing, transport, delivery, regasification, and electricity production; with the mission of powering life wherever needed. With more than 2,600 employees globally; Karpowership is operational in Indonesia, Lebanon, Mozambique, Ghana, Sierra Leone, Guinea, Guinea Bissau, Gambia, Senegal and the Caribbean. For more information on how Karpowership powers life, please visit: www.karpowership.com
For More Information
Fatu Camara
Marketing Partner