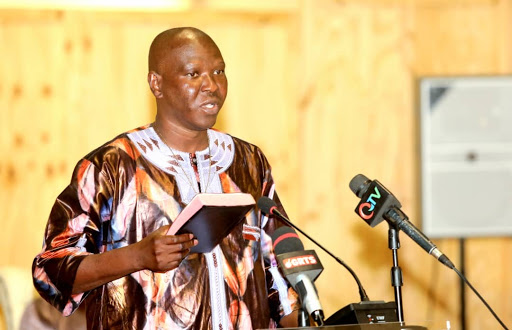 IEC deputy chairman Joseph Colley cut short his appearance on The Brunch on Saturday afternoon amid a confrontation with host Lamin Cham.
Colley and Cham took on each other in an astonishing showdown on The Brunch on Kerr Fatou that saw confused guests Samba Jallow and Sait Matty Jow struggle to separate the two men with Samba Jallow saying at one moment: "We're not here for this."
Cham who is the editor-in-chief of The Standard newspaper sparked tension when he asked Colley about blank voter's cards retrieved in streets recently that sparked concern among citizens.
"No, no this is the problem I have with people… They like inference. You're deducing or inferring," Colley blasted at Cham when the veteran journalist told him nobody questions the integrity of the people in IEC but the way the cards were disposed of. Cham said the people suggested it spelt the IEC's insensitivity to the protection of the "sensitive document" in its custody.
The back-and-forth then degenerated further with Colley saying "we're never insensitive" referring to IEC officials.
"That is what you're saying. I want you to withdraw that," a frustrated Colley added.
Cham bit back: "You have to accept the fact that these documents are sensitive."
"Don't put things into my mouth," Colley fired back, point his finger at Cham.
The two men continued talking over each other with Cham saying the people think something like voter's cards are sensitive.
"Let's talk about the facts, you don't put your feeling there," Colley told Cham.
"But they have a right to tell you an institution such as yours should be sensitive to the documents you have whether they are old or new," Cham responded.
"No, no let me go," Colley then said standing up. He then took back his seat after his co-guest Sait Matty Jow asked him not to, with Cham also telling him, "no, sit down."
"I'm telling you what the people felt," Cham said, renewing the exchange.
"That's people's problem. That's your own problem," Colley replied.
Cham then said: "I am a citizen of The Gambia…"
"This man has a problem and he must be told his problem," Colley told Cham.
Cham fired back: "I am telling you what the people felt about you in handling the cards."
A confused Samba Jallow then interjected: "Listen, honestly we are not here for this."
"He has an ulterior motive," Colley said but Cham replied that he has no ulterior motive.
Cham then said: "You have to accept there is a bit on negligence from the IEC."
"What negligence is there," Colley asked.
"Negligence… Why should sensitive documents like that are disposed in the street. It erodes confidence," Cham said.
"I have accepted the mode, so why is he talking about negligence," Colley responded.
"Gambian people have lived with so many mistakes by the IEC, simple mistakes," Cham blasted.
"This man has an agenda," Colley replied and then left the interview saying he had other things to do.
"Bye Bye for now," Cham told him.