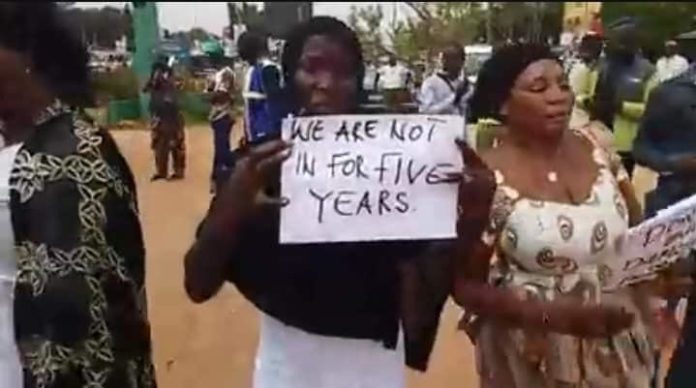 By Lamin Njie
Interior Minister Ebrima Mballow has confirmed the arrest on Friday of over a dozen people who took part in a protest calling for President Adama Barrow to step down after three years.
About 15 members of Operation Three Years Jotna – a group campaigning for President Barrow to honor the three years coalition agreement – Friday morning held a protest in Kololi where coalition partners were billed to meet to sign a document scrapping the three years understanding.
"I'm aware of it. Of course yes [they were arrested]. They will be charged for protesting without a permit. It's against the law. If you do anything that is against the laws of the country, the law will take its course," Mr Mballow told The Fatu Network Friday.
Friday's protest was the first of its kind since a debate on whether President Barrow should step down in December or continue until 2021 began. Coalition partners have been holding crunch talks and it emerged this week that key changes have been made to a memorandum of understanding including the part which says President Barrow should leave office after three years.
At least one coalition partner, the United Democratic Party, has voiced its disgust at the changes. The party's representatives reportedly walked out of a meeting on Monday. UDP wants the seven political parties to tend to the unsigned MOU first, its spokesperson Almami Taal told The Fatu Network on Tuesday.
UDP has since come under sharp criticism over its current disposition and many linked Friday's protest to the party but the party issued a statement on Friday rejecting such claims.
The Interior Minister Ebrima Mballow told The Fatu Network it wasn't his belief the protest was at the instance of a political party.
"Investigations are ongoing. I do not believe whether it has any relation to any party but investigations are ongoing," he said.