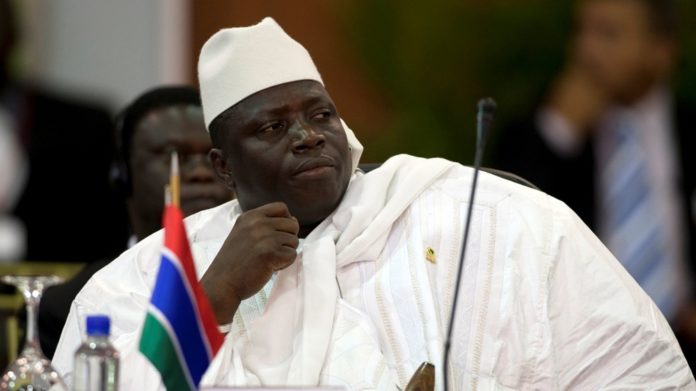 By Momodou Justice Darboe
Until recently, not much that was happening in the Presidential villa in Kanilai with regard the former President's appetite for maidens has been of public knowledge.
Revelations from the ongoing truth and reconciliation commission's public hearings are now giving the public a bird's eye view of the former President's sex life.
Always unfailingly adorned in a flowing white boubou with bead and Quran held with supposed reverence, the developments from the TRRC about Jammeh's acts of forced sex against young Gambian girls have caused quite a stir.
The holier-than-thou former Gambian dictator was more seen to be a man of God than being obsessed with women. He personally sponsored numerous religious activities, built mosques and went to Mecca to perform Hajj for several times.
Up until the startling revelations by a former Gambian beauty queen earlier this year that Yaya Jammeh had raped her, all was seen as rumors that the dictator had voracious appetite for beautiful young girls. Luring his unsuspecting victims with favors such as monetary gifts, expensive scholarship packages, jobs and other inducements, Jammeh's web of sexual escapades extended from the country's army to his female protocol officers as well as beyond the confines of the country.
The ex-Gambian leader was also discovered to have been outsourcing sex servants from countries such as Ethiopia and Guinea Bissau. All these was happening when the former first lady was busy shopping around the world.
Former First Lady Zeinab Suma was spending little time in The Gambia and her continued absence from State House had given her husband the opportunity to prey on young Gambian girls. Jammeh's lust for women has been graphically detailed by testimonies from TRRC witnesses about how he abused his power to have sex with young Gambian girls in slave-like conditions.
One of his bets was money and another of his traps was appointment into his team of protocol officers. The latter was where he was best at. Jammeh would appoint beautiful, young girls as protocol officers to build a bridge between him and them. Then this close proximity gave him the edge to entice some of them into bed.
So far, testimonies adduced before the trrc has uncovered some unpleasant things about the former dictator. The tyrant was said to be uncompromising for his pursuit for sexual pleasure. Jobs were lost and scholarships terminated as a result of non-positive response to the dictator's sexual advances. Lives were also lost as consequences of Jammeh's sexual misadventures. Irrefutable facts about the killing in 2011 of a female soldier and her husband at Hamza barracks by men under orders of Yaya Jammeh in a futile attempt to conceal the pregnancy of the female soldier for which he was suspected to be responsible are available.
Jammeh did not only dashed the aspirations of young Gambian girls by terminating the scholarship packages that he offered them for simply refusing his advances but had also succeeded in sowing the seed of discord among his female protocol officers.
A TRRC witness gave a graphic detail of the atmosphere of deep-seated animosity and jealously between some female protocol officers as a result of the rules by which Jammeh played the love-ball. He was said to be indiscriminate, fickle and indecisive in his choice for a sex partner. Jammeh was said to be hopping from one maiden to the other and the resultant loss of self-worth, disappointment and betrayal felt by the girls led to pervasive mistrust.
"He will give you the impression that he love you and you are the only one but once he is tired of you, he will dump you and go for another girl. These has led to problems among us and even people of same blood ties,'' a protected witness, who was a protocol officer to Jammeh this week told the trrc.
Despite these revelations, Jammeh currently living quietly in exile in Equatorial Guinea has not commented and his party said it would be profane to confront their leader on sex allegations.