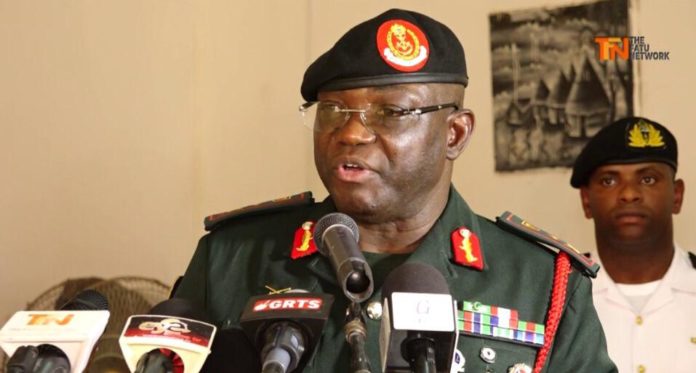 By Lamin Njie
The army said on Friday former chief of defence staff Masanneh Kinteh was never sacked but 'retired honourably'.
President Adama Barrow last month abruptly removed Masanneh Kinteh and replaced him with his deputy Yakuba Drammeh. The president used the word 'relieved' while removing Mr Kinteh who was at the time on an official trip to New York.
The army said in a statement Friday: "The attention of the High Command of the Gambia Armed Forces has been drawn to several media publications and reports as regards a request for Logistics and Staff Support by retired Lieutenant General Masanneh N Kinteh, who was until recently the Chief of Defence Staff of the Gambia Armed Forces. Perhaps, it should be emphasized that the request is a temporary arrangement until retired General Kinteh leaves for his new post in the People's Republic of China as Ambassador.
"The Gambia Armed Forces like many armed forces in the world accord some privileges to both serving and retired officers, soldiers and ratings in accordance with established laid down procedures. As a result of this, the Gambia Armed Forces wishes to categorically state that, contrary to what is being erroneously reported on social media, the former Chief of Defence Staff was not sacked/dismissed but rather honourably retired by His Excellency the President and Commander-In-Chief of The Gambia Armed Forces on 5 March 2020 and redeployed to the Foreign Service.
"In view of this, the retired General is entitled to all statutory benefits such as gratuity as well as other privileges as a Senior, Distinguished and Professional Flag Officer of the Gambia Armed Forces. Essentially therefore, granting his request is in line with his status, international best practices and military traditions in most militaries. It is prudent to state here that Ghana, Nigeria and Senegal are few countries where retired senior officers and generals are usually accorded retirement benefits such as support staff, vehicles and body guards amongst other incentives and privileges.
"However, in the context of the Gambia Armed Forces such privileges are not explicitly stated in the current Terms and Conditions of Service (TACOS), hence the request for temporary assistance. The Chief of Defence Staff, Major General Yakuba A Drammeh, however did not only consider and grant the request by his predecessor in view of the foregoing but also on humanitarian grounds, esprit de corps and camaraderie as a retired General Officer of the Armed Forces.
"It has to be further reiterated that the issue of the former Chiefs of Defence Staff (retired Colonel Baboucar Jatta and others) are rather completely different owing to the prevailing circumstances at the time. However, if the circumstances were the same as obtains in this new political dispensation, the High Command of the Armed Forces would have accorded the former Chiefs of Defence Staff the same privileges, if not better. It is instructive to note that the circumstances during the last two decades were symptomatic of an unfortunate and regrettable state of affairs beyond the control of the Armed Forces."