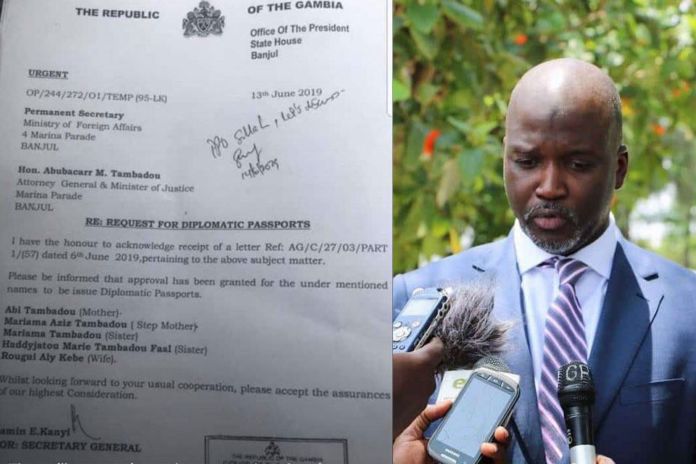 By Lamin Njie
Abubacarr Tambadou became the first top government official to get caught up in a diplomatic passport hooha that has swept the Barrow administration in recent weeks.
A letter emerged online on Saturday showing the office of the president approving a request for diplomatic passport to be issued to the justice minister's wife, mother, step-mother and sisters.
The request appeared to have been made by Tambadou on 6 June 2019 on behalf of his family.
One week later on 13 June, Lamin E Kanyi of the office of the president wrote to the permanent secretary at the ministry of foreign affairs and the justice minister himself informing them about the approval of the request.
According to Lamin E Kanyi, Abi Tambadou, Mariama Aziz Tambadou, Mariama Tambadou, Haddyjatou Marie Tambadou Faal and Rougui Aly Kebe have all been cleared to hold diplomatic passport.
Gambian Facebook users reacted angrily as soon as the letter came out with most asking in what capacity these individuals were issued such passport.
Gaye Biran said:  "I'm baffle by the above-mentioned names associated with the minister of justice family. I would like the minister to explain in what capacity was these people issue with such a passport and what interest are they contributing to the Government of the day."
Caira Grey-Johnson on her part asked: "Diplomatic passports for them on what merit????"
Muhammed Bah said: "For me to believe our National Assembly is really functional: they will call Hon. Ba Tembadou for questioning on Monday."
Modou ML Jabbi said: "Diplomatic Passport request for Ba Tambedou, his mother, step mother, two sisters and wife. Barrow will be worst than Yaya Jammeh."
Mr Tambadou declined to comment on the issue when contacted by The Fatu Network on Saturday.
A former minister in the Jammeh government told The Fatu Network on Saturday it was 'impossible' under Jammeh for a minister to 'use his position to have his wife hold a diplomatic passport.'