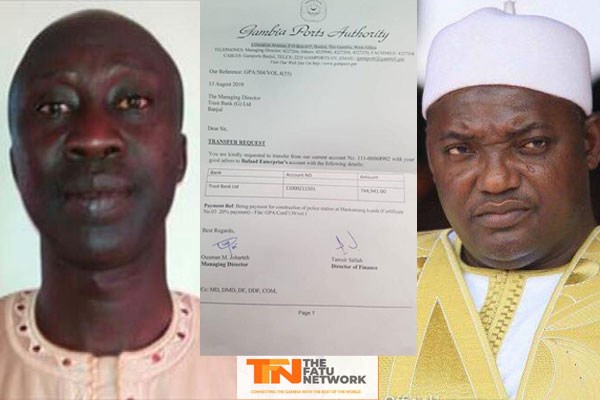 By Lamin Njie
There was ample fury on Friday after Gambia Ports Authority appeared to be directing Trust Bank to pay over half a million dalasis to a company for the construction of a police station in Mankamang Kunda, President Adama Barrow's hometown.
A letter purportedly by Gambia Ports Authority and signed by its managing director Ousman Jobarteh emerged online on Friday in which the authority is seen asking Trust Bank to pay D744, 941 to Bafaad Enterprise. The authority said in the letter the payment is for the construction of a police station in Mankamang Kunda.
The development was quickly trailed by largescale anger with Coach Pasamba Jow saying in a Facebook post: "President Adama Barrow has a very deliberate and mean-spirited way of reminding Gambians of Jammeh's wicked ways. How pathetic is it for President Adama Barrow and his government to keep imitating the disdained actions of Jammeh?
"Jammeh used SSHFC and Ports as his personal bank to finance his ill-advised programs, which President Barrow has also found worthy of emulation. Did President pay attention to anything said at the Janneh commission; better yet, has he even bothered to read the report that was submitted to him?"
Jaw Manneh said: "The Lawmakers should do their darn job – hold Barrow and heads parastatals accountable for such out-of-order public spending. Barrow is blatantly flouting the rules of the book and hijacking the functions of lawmakers.
"How many of such unauthorized spendings have taken place without public knowledge? Barrow is out of control. Our lawmakers should rein in illegal spendings to stamp out corruption. We can't run public business like a Mickey Mouse government."
Ndey Fatou Sohna, on her part, said: "#MankanangKundaCentralPoliceStation! When High crime areas don't have enough Police security. What is ECOMIG battalion for?"
A GPA official could not immediately comment on the letter.
The Fatu Network also contacted the director of press and public relations at the office of the president Amie Bojang Sissoho for comment but she did not pick a call.