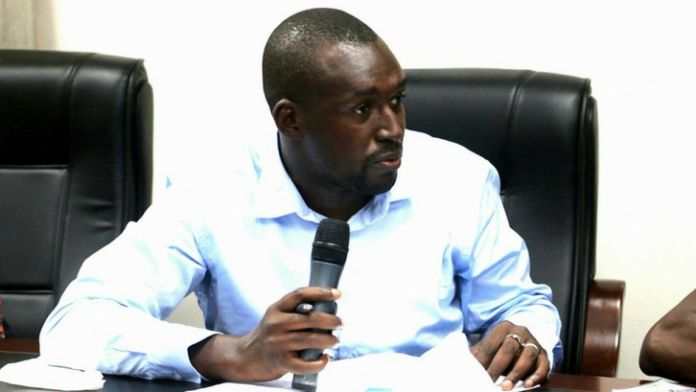 By Lamin Njie
A communication officer at the office of the president Sanna Camara has fired back at people who go about 'throwing lies against persons just to score personal points.'
Mr Camara and other members of President Adama Barrow's PR team have been accused of incompetence by Gambians.
Former secretary general and head of civil service Momodou Sabally led the catastrophic review saying on Tuesday President Barrow's public relations and communication woes is down to an incompetent communication practices of a team led by Amie Bojang.
Writing on his official Facebook page, Mr Sabally said: "We have to admit that the President's popularity is waning especially on social media. Barrow's PR team should up their game pronto to help shore up some positive energy towards their principal. But wait, does he even have a Team @ his PR and communications department? A house divided shall not stand."
Also writing on President Barrow's public relations crises and erosion of good will among Gambians, Femi Mahoney said: "I agree with Sir Momodou Sabally, that president Barrow popularity is on the wane. However, I also believe that, it's too late and he's been let down by his 'PR Team'. Especially Ebrima Sillah, Amie Bojang Sissoho, Ebrima Sankareh, Nfali Fadera, Sanna Camara, Lamin Cham (Statehouse), Dou Sano (sycophant #1) for failing to advising the president on how he should have been seen to empatise with the daily struggles of the average Gambian. These folks, especially the Press Department, of the Statehouse have been advising Barrow to avoid Gambians and media outlets, all due to the inferiority and insecurity. Thanks to their foolery Barrow is now so unpopular, even Yaya Jammeh can trounce him any snap election."
Mahoney added: "With all due respect to the woman (Amie Bojang Sissoho), this is someone who was only known for reading Sarahule news in Radio Gambia. Then later joined her partner in crime Dr Isatou Touray to set up that GAMCOTRAP which the rest is history. She was given the job by Barrow because they were both brought up by Sarahule friends and knew each other from then. She's my sister, but unfortunately she's not capable"
Political commentator Zakaria Kemo Conteh, on his part, said: "Even President Barrow's most ardent supporters would acknowledge that his popularity has plateaued somewhere around early 2018 and has been on free fall ever since. Now, with President Barrow's negative approval rating on the rise, does it make sense for him to seek another term in office? Is it a consequent of PR and policy blunder or a result of overall abysmal performance and ineptitude that dominate his government?"
On Friday, Sanna Camara appeared to be responding to the reviews and The Fatu Network who carried the story saying in a Facebook post: "Nob[i]lity of Journalism implies that the tradecraft is treated with credibility and not lies, aspersions and damaging reputations of people who worked VERY hard to build them.
"It is okay to not like, or be filled with grudge against a person. What is not okay is to throw allegations, lies and spite against well meaning persons just to score personal points; demean or make him look something he's and can never be."
A Commonwealth mission to The Gambia in 2018 faulted the efforts of the Gambia government in effectively communicating the challenges it faces to the public. The report seen by The Fatu Network cited: "By January 2017 overwhelming power had been centralised in the Office of the President. The Barrow Administration has taken action to decentralising decision making. The Office of the President has not been successful, in effectively communicating with the Gambian population the challenges faced by the government, and its successes. Additionally, the security arrangements around the President have caused some resentment among the security services and reinforced the impression of foreign influence and a detached President."