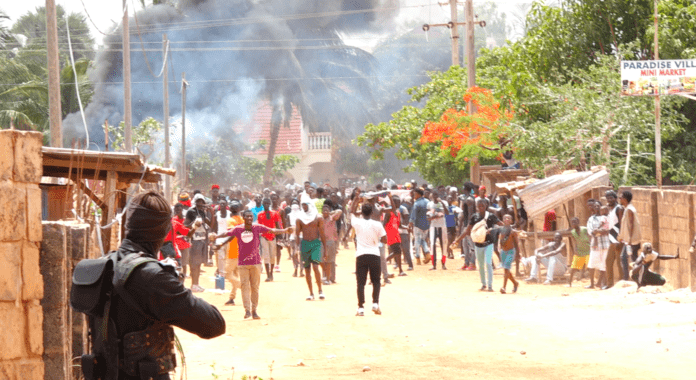 By Lamin Njie
Police in The Gambia have arrested at least a dozen people on suspicion of being part of last month's mass protests.
Mass protests erupted in Serrekunda last month following the death of Ousman Darboe. The 33-year-old businessman died as a result of alleged police brutality. Hundreds of youths burnt car tyres on July 24 as they marched on Bijilo, the town that hosts the headquarters of the police anti-crime unit. Tens of youths later stormed the house of the police anti-crime unit chief in Ebo Town and set it on fire.
On Saturday, the police responded by arresting at least 10 people they suspect of having a hand in the protests.
"It happened between 3pm and 4pm at the Serrekunda market," Demba Njie the secretary general of the SK Boko Loho Association, an association that advocates for the welfare of mobile phone vendors at Serrekunda market said.
He added: "They were taken to Tallinding Police station but the officers there assured us that they are in safe hands, that they are just going to ask them questions, take their statements and release them."
A source close to Killa Ace confirmed to The Fatu Network that the rapper-activist was arrested alongside at least a dozen others. The Fatu Network could not immediately establish whether Ace was arrested in connection with the protests.
The police spokesman Lamin Njie could not immediately comment on the issue.