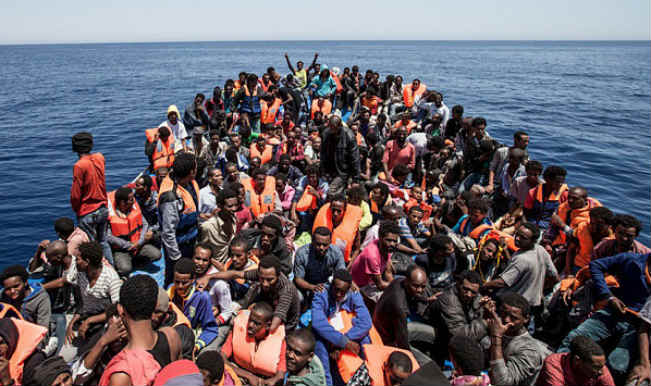 A charity that operates a rescue ship carrying more than a hundred migrants off the coast of Italy said on Saturday that it could not guarantee their security after the boat had spent more than two weeks waiting for a port to disembark in.
The migrants picked up off the coast of Libya, most of whom are African, are waiting to disembark on the southern Italian island of Lampedusa.
Italy's far-right Interior Minister Matteo Salvini has ordered his officials not to let them do so, although on Saturday he made a partial concession, saying he would allow any children to leave the boat. He added that he had only agreed to this at the insistence of Prime Minister Giuseppe Conte.
The Barcelona-based NGO Open Arms said that 27 minors who had been authorized to leave the ship disembarked onto Italian coast guard boats. That left 107 migrants on the ship.
Open Arms said the 16 days waiting for a port to disembark in had taken their toll on the migrants, with frequent fights breaking about among them and conditions on board deteriorating.
"After … six medical evacuations and having told authorities about our situation without receiving an answer, we are in a situation of need and we cannot guarantee the security of the 134 people onboard," Open Arms said.
"It is terrible, the things that are happening are not only physical but psychological. The conditions in which they were staying in Libya and now in the ship, it is just terrible, with 130 people and two toilets," Open Arms' director and founder Oscar Camps told Reuters on Friday.