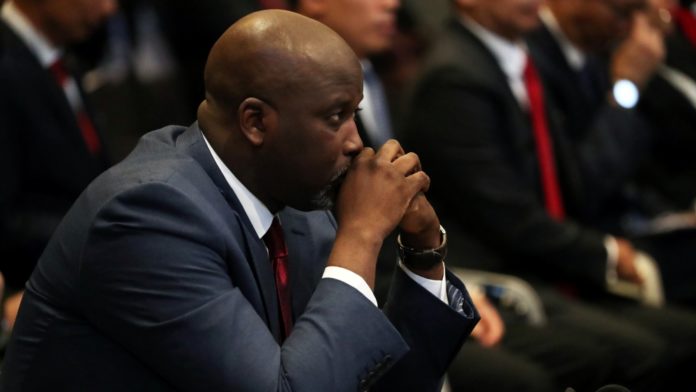 Abubacarr Tambadou on Monday appeared at the National Assembly for the last time as attorney minister and minister of justice.
Below is the full text of his address to members of parliament;
I guess parting is never easy. And I have had memorable encounters with almost all of you. It's not been easy at times. Some have actually recently threatened to conduct citizen's arrest on me, others have labelled me incompetent. But that is the joy of democracy. It's the joy of what each and every one of us here, in this assembly fought for, for many many years.
Many of you devoted your entire lives to fighting this cause. And on a day like today, I would like to single out honourable member for Serrekunda for his devotion to fighting for this freedom for many many years. I recall when I was a student at St Augustine's and we used to be excited socialist-marxist ideas and we would invite him to come and give talks at our symposium. I used to be inspired by him.
It's been three and a half short and long years. It's been difficult sometimes but I only wish to remind all the members here that our country is at crossroads. You're all patriotic men and women of this country. You represent our people here. Everything you say, everything you do, you do on behalf of the people of this country. But the responsibility to traverse from this very shaky water to a more stable and institutionalised democracy rests on each and every one of us. And we cannot do that without peace. It is what we have, it's our national treasure. It's what we must always preserve.
I would like to take this opportunity to thank each and every one of you for the engagements, for your criticisms, for your compliments and for the openness. The Gambia has changed. It will only change for the better from now on. You more than anyone out there have a unique responsibility to ensure that there is transparent, open and accountable government in this country. You more than any other constituency out there have a unique ability to check the execesses of power. You have a heavy burden to make sure that this country will no longer go back to a dictatorship. And you're already doing that. I can only encourage you to do that some more. See the executive as your partners in development and engage constructively.
Of course sometimes our decisions will be swayed by partisan political interest but what makes us true democrats is the ability to identify a national crisis and come together and put aside our political differences. It's going to be difficult going forward. Democracy is chaos. We will not like some of the things that are being said about us. We will not like the insults on social media. We will not like the unfair, unjustified criticism sometimes but I personally and I know as much as you prefer to live in this climate than the climate that we came from on the 1st of December 2016. It behoves all of us to ensure that The Gambia we bequeth to future generations is The Gambia that we inherited before 22nd July 1994. I thank you all for your support. I thank you Honourable Speaker. I thank the Office of Clerk. I thank you.