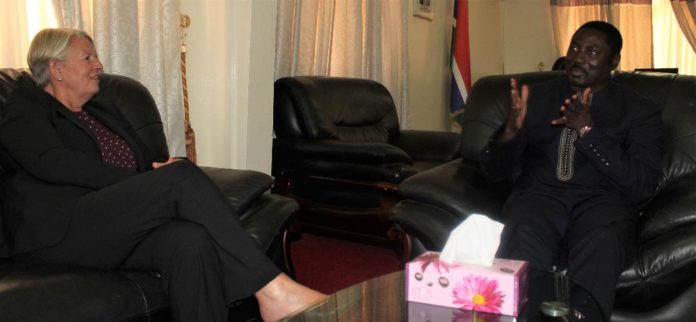 Dr. Mamadou Tangara on Monday held a meeting with the out-going High Commissioner of the United Kingdom to The Gambia Sharon Wardle, according to a statement by the foreign affairs ministry.
The meeting was held at the foreign ministry in Banjul.
The statement by the ministry said: "In his opening statement, the Honourable Minister of Foreign Affairs Dr. Mamadou Tangara commended the out-going High Commissioner Ms. Wardle for the progress registered in the bilateral relationship between The Gambia and the United Kingdom since the advent of the new democratic government of President Adama Barrow.
"Minister Tangara informed the High Commissioner of President Barrow's appreciation of gains registered in the area of strengthening cooperation between the two countries during her tour of duty. He expressed confidence that more positive outcome will be realised in our already cordial relationship.
"In her remarks, High Commissioner Wardle who is also the Dean of the Diplomatic Community in The Gambia expressed optimism about the future of The Gambia. High Commissioner Wardle thanked the Minister of Foreign Affairs for the support rendered by the Foreign Affairs Ministry towards enhancing the work of the British mission in The Gambia. The two sides discussed ways and means of containing the deadly pandemic – COVID -19 and also exchanged views on pertinent issues crucial to the strengthening of bilateral cooperation between the two countries.
"It could be recalled that H.E. Sharon Wardle was appointed Ambassador to The Gambia by Her Majesty in July 2017. However, her designation changed to High Commissioner following Gambia's return to the Commonwealth in 2018."